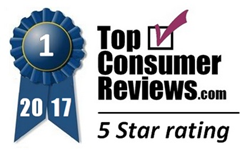 We're pleased to announce that For Your Party has earned our top ranking in the Party Planning category in 2017.
OVERLAND PARK, Kan. (PRWEB) November 13, 2017
TopConsumerReviews.com recently gave a best-in-class 5-star rating to For Your Party, a leader among services offering Party Planning.
Planning a party comes easily for some. For others, figuring out every detail to make it a memorable celebration can feel like a chore. Party Planning websites can help take away some of that stress. Services vary, with some sites recommending local vendors such as musicians or tent rentals, while others focus primarily on the decorations and other details. In either case, using a Party Planning site is an excellent way to save time - and often money - that might ordinarily be spent driving around town trying to round up party favors and entertainers.
"If you're looking for novel party accessories, particularly the personalized kind, For Your Party is the place to shop," explained Brian Dolezal of TopConsumerReviews.com, LLC. "For more than 10 years, For Your Party has been delighting customers with an incredible array of party merchandise, from cocktail napkins to stadium cups and much more. Practically everything they sell can be personalized for your guest of honor or event, leaving your attendees with a truly unique memento to use or take home. For Your Party also keeps prices extremely competitive, even on today's hottest trends that you'll see featured in popular magazines. We're pleased to announce that For Your Party has earned our top ranking in the Party Planning category in 2017."
To find out more about For Your Party and other online Party Planning services, including reviews and comparison rankings, please visit the Party Planning category of TopConsumerReviews.com at http://www.topconsumerreviews.com/party-planning/.
About For Your Party
Created by Sari Mintz in 2004, For Your Party seeks to provide a different kind of service to customers with unique, personalized party accessories. Featured in many national magazines, newspapers, on television, radio and blogs, For Your Party's personalized products have been used at thousands of weddings, anniversary parties, birthday bashes, bachelor parties, and high-profile celebrity events. For Your Party also has a growing collection of its own exclusive designs from renowned stationery designers, to help customers create something special for every event.
About TopConsumerReviews.com
TopConsumerReviews.com, LLC is a leading provider of independent reviews and rankings of hundreds of consumer products and services. From Party Planning to Gift Baskets and Birthday Parties, TopConsumerReviews.com delivers in-depth product evaluations in order to make purchasing decisions easier.