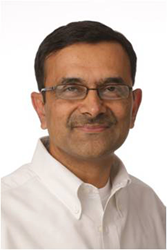 EMERYVILLE, Calif. (PRWEB) November 28, 2017
Praveen's history of successfully working with world-class companies and brands, and providing insights through data science, advanced analytics and business modeling makes him a meaningful addition to the Greenberg team.
"I am excited about working with clients to help address their business issues through strategic thinking and planning, implementing the rigorous and effective statistical approaches to study design and multivariate data analysis of data that can illuminate patterns, and consulting to derive fresh insights from data. I am extremely thrilled to join Greenberg and very much looking forward to cultivating partnerships with clients."
Andrew Greenberg, CEO and Founder, welcomed Praveen to the company at an all-hands event last week.
"I am so pleased to have Praveen on our team. His experience, knowledge and insight will work wonderfully with our WholeHuman philosophy — combining various data streams to create elegant solutions to important business questions. I can't wait to see what we discover. "
Praveen has more than 15 years' experience in the market research industry. Originally a Master of Marketing Research from Terry College of Business, University of Georgia, and the recipient of the Outstanding Student of the Year Award, Praveen worked at TNS, a leading research and insights company, where he collaborated with a variety of clients across a wide range of sectors including technology, financial services, healthcare, utilities, and consumer brands. Prior to joining TNS, Praveen worked in marketing and market research positions in India and Nigeria.
Earlier, Praveen completed the two-year Post-Graduate Program in Business Management at Indian Institute of Management, Ahmedabad, India, one of the top-ranking business schools in Asia.
About Greenberg Strategy
Greenberg is a fast-growing strategic consultancy that integrates research, design, and patterns thinking to help businesses transform and grow. Founded in 1997 and fiercely independent, the company has offices in the San Francisco Bay Area, Portland, Oregon, London, and Stockholm. Clients include some of the world's most-renowned brands, including Chipotle, Google, Dell, Gap, Intel, Microsoft, Sony, and Visa.