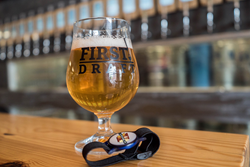 It's a great innovation. Committing to working with iPourIt has been really beneficial because we can gear it to the customer experience we want.
LOS ANGELES (PRWEB) November 09, 2017
What's better than a craft beer bar offering 40 taps of self-serve craft beer, wine, cider, coffee and kombucha? Multiple locations, if you're First Draft Taproom & Kitchen. Denver's first pour your own bar has announced the opening of their newest location: First Draft Los Angeles, set to open in early 2018.
After two years of success in Denver, First Draft owners and operators, Mark Slattery and his father Kevin decided it was time to expand the First Draft concept, and Los Angeles was a clear choice for their next city.
"I was born and raised in Los Angeles, and the city is booming. The craft beer scene is growing rapidly, and the downtown area is becoming a major living and working center. We wanted to create another urban destination location, to have something unique that could attract a craft beer-loving crowd with," said Mark Slattery.
First Draft Taproom & Kitchen strives toward the same success in every city - an elevated experience offering guests independence in their beer drinking and food choices.
"Our concept is to create an open and transparent atmosphere, because when you're buying by the ounce, you have to trust the operation of the equipment," said Slattery, referring to the self-serve beverage dispensing technology, iPourIt, which First Draft has partnered with for their two locations.
"Customers can see all aspects of our operations and make their own purchasing decisions. They can choose how much they want to drink, how many times to go back, how they want to pair it with food. They can even sit wherever they want and move from area to area, whether it's the mezzanine looking down on the action, out on the patio, or in the taproom."
Also on site are Certified Beer Servers and Cicerones to help imbibers make the best decisions. "Instead of classic bartenders, we have Certified Beer Servers and Cicerones at the tap wall. Our staff can be there to help you every step of the way and offer tasting notes and suggestions, or can stand back and let you DIY your own experience," said Slattery.
About iPourIt, Slattery said, "It's a great innovation. Committing to working with iPourIt has been really beneficial because we can gear it to the customer experience we want."
About First Draft, LLC
First Draft is a unique tasting experience in the River North Arts District in Denver, CO, coming soon to Downtown Los Angeles, CA. The state-of-the-art taproom and kitchen hosts a variety of craft beer, wine, cider, kombucha, coffee, and cocktails for patrons to pour themselves. All taps are ever-rotating to bring guests a wide selection of craft and small-batch libations from across the country. Check out the taplist and food menu for the latest! Or get social with us on Facebook (facebook.com/firstdraftdenver), Yelp, Twitter (@FirstDraftDen), Foursquare and Instagram (@FirstDraftDenver).
First Draft, LLC | 1309 26th St. | Denver, CO | http://www.firstdraftdenver.com | Tel: 303-736-8400
About iPourIt, Inc.
iPourIt, Inc. is a revolutionary self-serve beverage dispense technology that allows taproom and fast casual patrons to pour their own beer, cider, wine, cocktails and coffee, and it tracks and monitors every pour. iPourIt's data analytics gives bar and restaurant operators valuable information about who poured what, when, and where, so businesses may effectively target patrons and create a positive experience, while increasing revenues. iPourIt's self-serve solution is now in operation on 2,500 taps nationwide and counting, with more than 3.4 million ounces poured each month, and more than 5.5 million users, a number that grows every day. iPourIt is born and supported in the U.S.A. Learn more about iPourIt at ipouritinc.com, and follow us for updates on Facebook (facebook.com/iPourIt), Twitter (@iPourIt_inc) and Instagram (@ipourit).