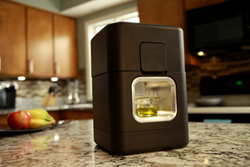 We designed the Oblend, and its supporting technology platform, to make natural remedies more accessible to consumers than ever before.
NEW YORK (PRWEB) November 09, 2017
Seattle-based technology company, Altopa, Inc. has been selected as a CES 2018 Innovation Awards Honoree in the Fitness, Sports and Biotech product category for the Oblend. Oblend, the first in-home dispensary - a countertop device capable of precision blending essential oils and other botanical extracts for use in health and wellness applications, receives one of select awards bestowed on companies for breakthrough technologies.
The announcement was made at CES Unveiled - New York today, where exhibitors showcased their latest products ahead of the world's largest consumer electronics trade show.
"We are humbled to receive this considerable distinction," said Altopa CEO Matt Wilson. "With the growing awareness and concern about the unintended effects of pharmaceuticals like opioids in this country, mainstream consumers are increasingly turning to naturopathic solutions. We designed the Oblend and its supporting technology platform to make natural remedies more accessible to consumers than ever before. With the Oblend, you can create a blend as unique as you are and feel how you want to feel."
Engineered to medical device standards, and utilizing patent-pending technology, the Oblend is a home dispensary that provides its users with the ability to create wellness products such as topicals, tinctures, capsules, inhalables, aromatherapy and culinary oils – all based on the user's own unique preferences. Further, the Oblend platform was designed to be scalable, so while the first version fits on a kitchen counter and holds two dozen cartridges, future versions could hold hundreds – which would make them ideal for research.
"Congratulations to the Oblend team for this well-deserved recognition," said Hamish Sutherland, CEO of White Sheep Corp., a lead investor in Altopa. "The market is ready for this new category of home appliance. The Oblend gives the consumer access to a broad range of botanical wellness solutions from the comfort of home, through dispensaries and in time, health clinics."
CES 2018 Innovation Award Honoree products are featured on CES.tech/Innovation. All CES nominated products will be displayed at CES 2018, January 9-12, in Las Vegas, Nevada.
About Altopa, Inc.
Founded in 2016, Seattle-based Altopa, Inc. has pioneered the first consumer device capable of precision blending essential oils, dietary supplements, and other botanical extracts for use in home health and wellness applications. The Oblend Platform has been designed to deliver an unprecedented level of confidence to current and prospective consumers. With the Oblend platform, anyone can easily find the right formulation for their need, experience predictable effects, and reliably customize and replicate proven botanical and essential oil-based solutions for a wide range of health and wellness benefits. Altopa gives you the power to feel how you want to feel. For more information, visit http://www.oblend.com
For media resources (Oblend images and video) visit: http://www.oblend.com/press/