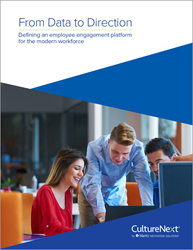 St. Louis, MO (PRWEB) November 10, 2017
Maritz Motivation Solutions has released a new guide designed to help HR executives and professionals assess and evaluate employee engagement platforms and programs. The new CultureNext® guide, From Data to Direction: Defining an employee engagement platform for the modern workforce outlines the three key challenges facing the employee engagement market today, their causes and how they affect engagement.
The guide provides useful approaches based on behavioral and motivational science for HR practitioners to construct an effective global solution. In today's complex workplace, this solution should be comprehensive, new-generation, data-driven and based on outcomes, according to Chris Winkelspecht, Ph.D., director of strategic services for Maritz Motivation Solutions.
"HR professionals have reached and passed the point where simple recognition and reward could be considered true employee engagement. Today, a more mature and complex industry faces significant obstacles to creating a culture of purpose, and extracting and analyzing the meaningful data needed to maintain it," said Winkelspecht.
The three challenges covered in the guide are:

GLOBAL: There is no definitive modern model for global employee engagement.
DATA-DRIVEN DECISIONS: HR is drowning in data, but lacks an easy way to navigate planning and effective action, and measure results.
TECHNOLOGY: HR technology is finding it difficult to keep pace with workplace motivational science.
"The guide outlines the opportunities these challenges create. It provides advice for you as an HR professional on what to look for in a platform that allows you to meet the challenges and fulfill the potential of these opportunities," Winkelspecht said.
Winkelspecht will lead a webinar with the Human Capital Institute to discuss in detail the engagement challenges for HR and offer solutions. The webinar will be held on Tuesday, November 14, at 3 p.m. EST. To register, go to http://www.hci.org/lib/current-state-employee-engagement-three-primary-challenges-facing-industry
About Maritz Motivation Solutions
Maritz Motivation Solutions has been a global leader in employee engagement for over 75 years. Maritz's CultureNext® solution empowers employees to transform their organizations into amazing places to work. CultureNext provides organizations with flexible technology, tools, services and expansive rewards to help connect people worldwide to create a culture of engagement, passion and purpose. For more information, visit us at maritzmotivation.com/culturenext.
# # #