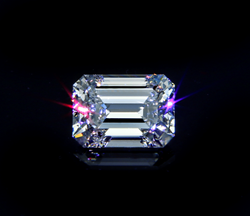 The Brian Gavin Signature Emerald is a true embodiment of our passion for precision and determination to make every diamond shine to its full potential
HOUSTON (PRWEB) November 13, 2017
Brian Gavin Diamonds is ushering in a new standard of brightness in emerald cut diamonds. Today, the international e-tailer is unveiling the patent-pending Brian Gavin Signature Emerald, an impeccably cut diamond built to maximize light return and defy the limits of an emerald cut's brilliance factor. Aside from appearing noticeably brighter, Brian Gavin Diamonds backs the brightness with science. Every diamond is submitted to the American Gem Society Laboratories (AGSL), where it receives a grading document with the patented light performance-based cut grade. Featured on this report is an Angular Spectrum Evaluation Tool (ASET) image, which visually support the light performance grade and is unique to each diamond.
Emerald cut diamonds, which are favored by many Hollywood celebrities including Amal Clooney and Beyoncé Knowles-Carter, are one of the big trends in engagement rings this year. Despite their popularity, up until now, most emerald cuts have built a reputation for appearing dull and lifeless. Ase Anderson, a reporter at The Jewellery Editor, even deemed the emerald cut stone as "the most unforgiving cut."
Knowing emerald cut diamonds are rarely cut for light performance, fifth-generation diamond cutter Brian Gavin saw an opportunity to use his expertise and precision to revolutionize the diamond shape. Drawing inspiration from his father and grandfather's journals, he gathered hints and embarked on a journey of extensive research to improve the emerald cut. Rather than recreate the common 4-tier facet structure popular today, Gavin adopted a 3-tier facet structure used generations before him. The combination of optical precision and ideal proportions produced a brilliant cut that exceeded the Sure Sparkle of any emerald cut diamond on the market.
"We realize there is no such thing as a perfectly cut diamond, but we'd like to think our new emerald cut is the pinnacle achievement for this shape," said Gavin. "The Brian Gavin Signature Emerald is a true embodiment of our passion for precision and determination to make every diamond shine to its full potential," he continued.
Brian Gavin Signature Emerald cut diamonds are graded by the AGSL because it provides a more in-depth analysis of the diamond's light performance. Customers who purchase a Signature Emerald Cut diamond will receive an AGS Light Performance Diamond Quality Document, ASET and Ideal Scope images, and a high-resolution 3D video featuring different lighting situations so that you can fully appreciate the splendor that these diamonds have to offer.
Brian Gavin Diamonds' newest Signature Emerald Cut collection is customizable. Rings are available in 14- and 18- karat yellow, white and rose gold or platinum metal. Visit the Brian Gavin Diamonds website to learn more and experience the brightest and most extraordinary emerald cut diamonds.
###
About Brian Gavin Diamonds
Brian Gavin Diamonds has been setting the standard in the diamond industry since Brian the Cutter started the business in response to the public's demand for his quality of super ideal cut high performing diamonds in 2009. Brian Gavin Diamonds' Signature Collection diamonds are in a class above the rest, offering customers its patented cushion cuts, as well as round cuts, the Brian Gavin Blue collection, Signature Emerald Cut and Signature Princess Cut, sold exclusively across the world on its e-commerce site, as well as in its Houston-area showroom.