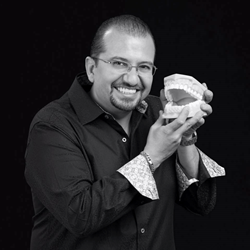 ORANGE COUNTY, Calif. (PRWEB) November 13, 2017
Orange County dentist Dr. A. Anthony Rassouli is now offering free teeth whitening kits to new Invisalign patients to celebrate National Orthodontics Month. National Orthodontics Month is observed every October to bring awareness to the many benefits of orthodontic treatment for children and adults.
Adults are increasingly choosing orthodontic treatments like Invisalign: In 2014, 27 percent of new orthodontic patients were adults. According to a survey by Harris Poll and Invisalign, the smile is second only to weight when it comes to personal characteristics about which Americans feel insecure. Many respondents believed that changing just one feature could bring improved self-confidence.
With this offer, Orange County dentist Dr. Rassouli is making it possible to improve two critical features of a person's smile: the alignment and the color. Invisalign works by gently shifting teeth using clear, removable aligners while the teeth whitening treatment uses professional strength ingredients to effectively buff away stains deep inside the tooth's structure.
A 2015 study published in the International Journal of Clinical and Experimental Medicine revealed that Invisalign was just as effective as fixed appliances in many ways. Other studies show that patients who are treated with Invisalign enjoy better periodontal health than those who are treated with fixed appliances such as braces.
Several types of Invisalign treatments are available through Dr. Rassouli, including:

Invisalign Teen, which has teen-friendly features designed to make the aligners easier to use for younger patients
Invisalign Express, which is made for patients with minor orthodontic issues that can be corrected in 6 months or less
Classic Invisalign
He also offers Invisalign retainer, which is used after Invisalign treatment to maintain the position of the teeth.
About Orange County Dentist Dr. A. Rassouli
Dr. Rassouli is a graduate of the University of Southern California. Dr. Rassouli has been an Invisalign Premier Preferred Provider since 2011. To earn the designation of Premier Preferred Provider, a dentist must have successfully completed at least 50 Invisalign cases and continue to complete 25 cases every 6 months. Patients can be confident that a Premier Preferred Provider such as Dr. Rassouli has extensive experience in treating a wide range of cases.