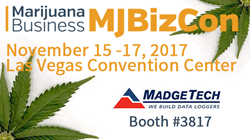 WARNER, N.H. (PRWEB) November 13, 2017
Back in 2012, MJ Business Daily made history by launching the first national trade show for cannabis. Since then, it's become the world's largest gathering of industry executives and exhibitors, with its Fall show selling out for the past four years in a row!
Packed with dozens of sessions geared for various roles within the industry, MJBizCon is expected to draw in 14,000 attendees from around the nation and the world. MadgeTech will be among the more than 650 vendors on the exhibition floor demonstrating how the Element series of wireless data loggers can help cultivators save time and money, while increasing their yield.
MadgeTech's line of Element data loggers provides cultivators with around-the-clock monitoring and the ability to view data in real-time. Customizable features allow users to set alarms which will trigger if set levels are breached, users can also get notifications via text message or email. Whether grabbing lunch or calling it a night, cultivators can still keep an eye on their crop. MadgeTech Cloud Services gives users the independence to check on their crop right from the palm of their hand.
A staple in every grow room, the Element HT wireless data logger provides cultivators with a simple and convenient way to constantly monitor ambient temperature and relative humidity levels. For facilities incorporating carbon dioxide to stimulate growth, MadgeTech also offers the Element CO₂ wireless data logger. This logger is the all-in-one solution allowing growers to obtain a complete profile of grow conditions by not only tracking CO₂ levels, but temperature and relative humidity as well! To achieve optimum results, the Element 4-20 wireless current data logger is compatible with a variety of probes and sensors to monitor critical variables such as soil moisture and temperature, pH and light intensity.
Stop by booth #3817 to learn more about MadgeTech's industry-leading data loggers, customizable solutions and user-friendly software.
For more information about MadgeTech data loggers, please call MadgeTech at (603) 456-2011 or send an email to info(at)madgetech(dot)com.