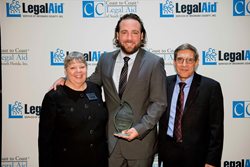 Mr. Van Horn has been a relentless advocate for the disadvantaged in Broward County, particularly our veterans, facing financial crisis.
FORT LAUDERDALE, Fla. (PRWEB) November 17, 2017
Chad Van Horn, the founding partner of Van Horn Law Group, P.A., was recognized as Attorney of the Year at the 16th annual For the Public Good event hosted by Legal Aid Service of Broward County (LAS) and Coast to Coast Legal Aid of South Florida (CCLA). The event took place on Wednesday, November 15, 2017, and celebrates community leaders whose philanthropic work has benefited underprivileged and underserved communities and individuals in Broward County.
The event had over 400 Broward County lawyers, judges, and community leaders attend. Funds raised from the evening will benefit those served by the two agencies, specifically seniors, veterans, the homeless, survivors of child abuse, survivors of domestic violence, persons living with HIV and AIDS, and families at risk to losing their homes to foreclosure.
A not-for-profit law firm established in 1973, Legal Aid Service of Broward County's core mission is to provide free civil legal advice, representation, and education to underserved and underprivileged persons residing in Broward County. LAS strives to improve living standards and conditions for low-income people and foster long-term self-sufficiency by empowering them with information and expert legal advice. Coast to Coast Legal Aid of South Florida is a not-for-profit law firm funded, in part, by the Legal Services Corporation. Established in 2003, CCLA's mission is to improve the standard of living of low-income people through advocacy, education, representation, and empowerment.
Chad Van Horn shares these core values and has dedicated his time, services, and energy to helping LAS and CCLA assist those in need. An expert in bankruptcy law and a Florida attorney since 2009, Chad has spent numerous hours devoted to helping low income and vulnerable populations navigate the ins and outs of bankruptcy to help alleviate economic hardship. Van Horn Law Group partners with community service organizations to provide pro bono legal advice, including Legal Aid and United Way of Broward County.
Upon being named for this award, Broward Legal Aid states: "Mr. Van Horn has been a relentless advocate for the disadvantaged in Broward County, particularly our veterans, facing financial crisis. He provides a holistic approach to practicing law that is invaluable to our clients who often have more than one legal issue, and due to his zealous advocacy he has helped many low-income veterans escape the physical and emotional burdens of bankruptcy."
In 2017, Chad has also been named Big Brother of the Year by Big Brothers Big Sisters for the State of Florida, Avvo Clients' Choice and rated American Institute of Legal Counsel 10 Best Attorney-Client Satisfaction in Bankruptcy Law Division, in addition to other awards and recognitions for his legal expertise and community service.
About Chad Van Horn
Chad Van Horn is the founding partner attorney of Van Horn Law Group, P.A., a South Florida business leader devoted to supporting local startups to help create jobs, and philanthropist known for providing pro bono legal guidance to underserved populations. He received a Bachelor of Science in Business Management from Robert Morris University and his Juris Doctorate from Nova Southeastern University, Shepard Broad Law Center. He attributes his global perspective of the world to his time studying abroad at American University of Rome in Rome, Italy. Chad originally hails from Pittsburgh, PA.
About Van Horn Law Group
Helmed by Chad Van Horn, Van Horn Law Group P.A. is a Fort Lauderdale-based law firm with practice areas in personal bankruptcy, corporate bankruptcy, student loan consolidation and litigation, estate planning/asset protection, LGBT estate planning/asset protection, foreclosure defense, corporate representation, debt consolidation, civil litigation, debt relief, and consumer law. Through a combination of dedicated philanthropy, spirited entrepreneurship, and legal expertise, he applies his resources and networking to help people. Van Horn Law Group can be reached at the Fort Lauderdale office at (954) 765-3166, or by visiting https://www.vanhornlawgroup.com