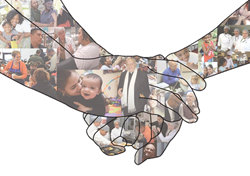 "When you take someone's hand, you cannot let it go until they can stand on their own two feet," Msgr. Puma, founder of Eva's Village.
PATERSON, N.J. (PRWEB) November 13, 2017
On, November 2, Eva's Village's 'Visions of Hope' Benefit Gala raised more than $674,000, topping last year's total by nearly $35,000. The funds will support the comprehensive network of services Eva's Village offers to members of our community who are struggling with hunger and poverty, addiction, and mental illness. Eva's 20 programs have offered stability and a helping hand to thousands of men, women, and children each year since 1982. The event was held at The Grove in Cedar Grove, NJ.
This year's event celebrated the organization's 35th anniversary, and put a spotlight on the growing opioid epidemic that is gripping our nation—and on Eva's efforts to reduce the numbers of deaths from overdose in Paterson and in Passaic County. Since it opened as a soup Kitchen in 1982, Eva's Village has found new ways to meet ever-changing needs in our community for food, shelter, recovery and medical care, education and job training. The Gala honored several partners in innovation, who are working with Eva's Village to save and change lives.
Honorees
Dr. Mark Rosenberg, Chief Innovation Officer and Chair of the Emergency Department at St. Joseph's Health, received the "Where Hope Begins" award for his work to reduce opioid prescriptions and bring recovery services to overdose patients. He pioneered the ALTO (Alternatives to Opiates) program, making St. Joseph's Hospital the first in the nation to stem the use of opiates for pain management, with a 50% reduction in the use of opioids by in St. Joseph's emergency room. Since April of 2016, Dr. Rosenberg has been working with Eva's Village through the Opioid Overdose Recovery Program, which brings Eva's peer recovery specialists to overdose patients' hospital bedsides to help them on the road to treatment.
The Sisters of Charity of St. Elizabeth, who founded St. Joseph's Hospital in Paterson 150 years ago, were honored with the "Community Service Award" for their vital role in the foundation and growth of Eva's Village and their contributions to the Paterson community.
Eva's peer Recovery Specialists were also recognized with the "Msgr. Vincent E. Puma Award" for their 24/7 lifesaving work through our Opioid Overdose Recovery Program to connect patients in local emergency rooms who have been reversed from opioid overdose with recovery treatment. To date, Eva's OORP Specialists have connected more than 80% of 600+ patients to recovery treatment and support.
Focus on Peer Support
Two of Eva's alumni spoke to the audience about the bonds they forged in Eva's halfway house more than a quarter of a century ago. When Glenn was assigned as a 'big brother' to Joey, a new halfway house client, he told the audience that "the 'each one, teach one' process began and Joey helped me as much as I helped him. . . . For 27 years now, we are still helping each other out in all aspects of our lives, mentally, spiritually and physically." This peer-to-peer connection is also the model for recovery support at Eva's Recovery Community Center and lies at the heart of the OORP program's success. Since the Center opened in 2009, more than 11,000 individuals have participated in recovery support and treatment.
"The generosity of our funders and donors makes it possible for Eva's Village to offer a full spectrum of care to our clients while they heal and work towards long-term stability," noted Heather Thompson, Eva's Chief Development Officer. "Eva's Village relies entirely on private donations to support many of its programs including its Community Kitchen, its free medical and dental services, and the childcare and education programs for children living in our facilities," she added.
Last year, Eva's served nearly 500,000 meals to guests in its Community Kitchen and residential clients; provided shelter and housing to nearly 500 adults and over 100 children; helped more than 2,200 individuals find a path to recovery through substance use disorders treatment and mental health programs; and treated patients for over 5,200 visits to the medical and dental clinics.
Sponsors
Paterson-based Rapid Pump and Meter Service Co., Inc. and Machinery Services Corp. sponsored the event. Additional sponsors included: Railroad Construction Company, Inc. also located in Paterson; County Concrete Corporation; and Wells Fargo.
More about Eva's Village
Founded by Msgr. Vincent E. Puma in 1982, Eva's Kitchen began by serving 30 meals a day to feed the hungry in Paterson. In response to the related issues of poverty, addiction, mental illness and homelessness, programs and services grew out of the original soup kitchen to address the root causes as well as the effects of homelessness and poverty. Today, Eva's Village is a non-profit, comprehensive, social service organization, offering 20 integrated programs to help those in need move toward stability and independence. The programs address needs in the Paterson and Passaic County community for food and shelter, recovery and medical services, and education and job training.