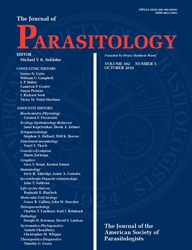 Combining these forces and fully exploiting the power of MTE has the potential to revolutionize our understanding of the climate-dependence of infectious diseases.
LAWRENCE, Kan. (PRWEB) November 14, 2017
The Journal of Parasitology – Climate change has a powerful effect on host–parasite interactions, and the geographic shifts that parasites and pathogens are experiencing will dramatically affect disease management in both humans and animals. Currently, temperature and thermal data are being collected in a very individualized, specific manner and cannot be synthesized for overarching predictive models. Thus, a stronger forecasting model is necessary to understand how climate change will impact parasite and pathogen evolution.
Researchers from the University of Toronto Scarborough recently published a report in The Journal of Parasitology that outlines a new model for data collection and interpretation in parasites. Currently, only a handful of parasites have been well studied with regard to temperature changes. This model will help use physiological characteristics from well-known species and apply them to the understudied ones to form predictive models.
The Metabolic Theory of Ecology (MTE) helps to lay the foundation for this new model. In a three-stage series, the researchers outline the basis for their theory and the steps needed to help generate more communication between experimental parasitologists and disease modelers. They begin with identifying the key challenges for collecting and modeling temperature and thermal data, and how MTE can be used to help gain a deeper understanding of temperature effects. Next, they discuss the data and knowledge that are critical to creating predictive host–parasite temperature models. Finally, the researchers present a step-by-step guide that will assist in filling the gaps in data and knowledge required for developing stronger forecasting models.
Researcher Péter K. Molnár states, "In our paper, we provide practical guidance for combining the expertise of experimental parasitologists, field ecologists, and theoreticians to derive better predictive models for how climate change will alter diseases worldwide. Combining these forces and fully exploiting the power of MTE has the potential to revolutionize our understanding of the climate-dependence of infectious diseases."
The step-by-step guide the researchers have introduced will help create a wider view on how climate change is impacting parasites and pathogens, and in turn will create stronger predictive models for future disease management. The researchers are aware that some species will not strictly conform to the MTE expectation. However, they are confident that MTE will allow for better theories on how the host–parasite interaction will be affected by temperature and thermal changes.
Full text of the article, "Thermal Performance Curves and the Metabolic Theory of Ecology—A Practical Guide to Models and Experiments for Parasitologists: A Review," Journal of Parasitology, Vol. 103, No. 5, 2017, is available at http://www.journalofparasitology.org/doi/full/10.1645/16-148.
About the Journal of Parasitology
The Journal of Parasitology is the official journal of the American Society of Parasitologists (ASP). It is a medium for the publication of new original research, primarily on parasitic animals, and official business of the ASP. The journal is intended for all with interests in basic or applied aspects of general, veterinary, and medical parasitology and epidemiology. For more about the journal or the society, see http://www.journalofparasitology.org.