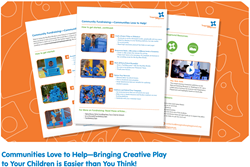 (PRWEB) November 15, 2017
Schools and other educational organizations have found it difficult to solicit and be chosen to receive grant funding. Educators and parents are turning to a simpler approach – Community Fundraising.
Research indicates that 80% of those who know of Imagination Playground, want an Imagination Playground. But what often stands in the way is available funding. The new Imagination Playground Community Fundraising Guide provides proven tips and techniques to make a school or organizations fundraising efforts efficient and successful.
David Krishock, President & CEO of Imagination Playground says, "When we first began the company, we heard loud and clear that grant funding was not helping enough schools and organizations in need. In speaking to customers, we learned of the new wave – crowd or community funding. We have been a part of over 700 community fundraising campaigns, and to my knowledge we have not failed a single time to be able to bring our blocks to those in need. We work with customers and their budget to get them an Imagination Playground."
The downloadable Imagination Playground Community Fundraising Guide is a simple to use tool that helps create and execute a successful event. The guide includes:

Best practice fundraiser set up process – 10 Easy Steps
Resource tools – logos, pictures, videos, and more
Tips and links of added sources to ensure success
To download the Imagination Playground Community Fundraising Guide, click HERE.
Anyone interested in knowing more about the mission of Imagination Playground and how Community Fundraising can help you bring the Big Blue Blocks to your school, family center, or organization should contact them at 678-604-7466 or email them at contactus(at)imaginationplayground(dot)org.
About Imagination Playground, LLC,
Imagination Playground is a breakthrough play space concept developed to encourage child-directed, creative free play. The kind of play that experts say is critical to children's intellectual, social, physical, and emotional development. Invented by architect and designer David Rockwell and the Rockwell Group, Imagination Playground enables children to play, dream, build, and explore endless possibilities. Imagination Playground finds its home in daycare centers, kindergartens, elementary schools, children's museums – and nature, discovery, and science centers, camps, community centers, children's hospitals, hotels and resorts, public parks and more – in North America and over 70 countries worldwide.
For more information, visit http://www.imaginationplayground.com