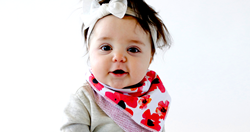 DENVER (PRWEB) November 14, 2017
Launching today, Fox and Owl Kids is an innovative and functional baby and children's clothing company featuring quality organic fabrics that are non-GMO, hypoallergenic and free of pesticides, lead and phthalates, so parents can be confident when putting it on their child and at the same time feel good about the reduced impact on the environment. The Company's first product, the versatile True Bandana, is an entirely new and innovative take on the bandana bib. It grows with your child when she or he no longer needs protection from messes at dinnertime, so it can be used outdoors, while skiing, as a scarf and a fashion accessory. To make things even better, with each box set, Fox and Owl Kids will provide 1 month of school meals to feed children in need around the world, so it's good for your child, the environment and other little ones in need.
The Company was inspired by a mother's search for an all-natural hypoallergenic organic option, as some children's sensitive skin reacts to synthetic materials such as fleece lining or polyester, causing eczema flare-ups, as well as a product that could be used for years after the child didn't need a bib anymore.
Fox and Owl Kids began by sourcing premium organic cotton, which, in addition to being free of synthetic additives, uses less water and leaves a lower impact on the environment during cultivation. The Company then made the design a real square bandana when unfolded, with lead-free, CPSA compliant buttons, opening the door for other uses such as a scratch-free scarf on chilly days in the fall, wind protection during skiing, a true fashion accessory, outdoor activities in general and, of course, as a bib. All prints are originally designed and curated, so each one is unique and fashionably tailored. Finally, each true bandana is loaded with little features that make the parent life just a tad bit easier, reversible with two unique patterns, so when one side gets dirty parents can flip it over on the go, double-layered for high absorbency, three adjustable sizes and a large neck opening for added comfort and easier to put on.
From the beginning, the Company wanted to stand for innovation, quality and charity. So, the True Bandana was run through tests conducted by a global third-party provider and required an industry leading global standard certifying our cotton organic. Then, Fox and Owl Kids partnered with "Mary's Meals" (marysmeals.org), a charitable organization focused on feeding children around the world, so with every box set, Fox and Owl Kids will provide 1 month of school meals to a child in need. Making a positive impact on others is core to the Company's DNA.
Styling and Specifications
The True Bandana comes in a craft box set with two bandanas and four unique patterns, great for your own family or as a unique gift with a story for the holidays, baby showers or birthdays. The bandanas are 12.0 inches by 12.0 inches when unfolded and have buttons in the back for three neck sizes to grow with the child (3 months to 7 years). Styles range from fun patterns such as unicorns & rainbows, poppy flowers and fun with fruits to hipster, out to sea and the patriotic stars and stripes box sets.
Pricing and Availability
True Bandana craft box sets are available at the Fox and Owl Kids website and Amazon.com for $35.99. However, during the Company's launch event, you can get them at a discounted price up to 60% off as well as a chance to win a $100 gift card. Check them out starting today at http://www.foxandowlkids.com.
Videos
Photoshoot: https://youtu.be/UrvrkUcT-xA
How To: https://youtu.be/10qE0fbbIaY
Contact
Fox and Owl Kids
720-449-3844; jennifer(at)foxandowlkids(dot)com
facebook.com/foxandowlkids | instagram.com/foxandowlkids