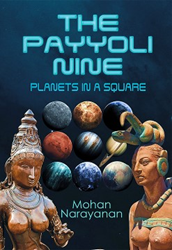 "This world traveler has written another fascinating story combining mystery, Indian culture, and the planets' mysticism." - Robert Fletcher, CEO of Strategic Book Publishing and Rights Agency
(PRWEB) December 28, 2017
Mohan Narayanan presents his fourth book in the "Payyoli" series, "The Payyoli Nine: Planets in a Square."
In the Indian Vedic system of planetary worship, of the nine major planets (the Navagrahas), the most important ones are Saturn (Shani), Mars (Mangal), and Jupiter (Guru). Their celestial transitions are said to affect human lives, as told in myths and horoscopes. And of these three planets, Saturn and Mars are considered to be especially malevolent. This fascinating futuristic tale describes Saturn as it appears in Mayan mythology and Hindu scriptures, while Mars is handled for its futuristic space technology ventures.
"An amazing and fast-paced ride with our favourite techno-savvy duo of Harani and Manikkam. A must read for all those who believe God is one. This book gives strength to my belief that all religions originated from one single almighty power!" – Sriram Srinivasan, Editor
Seven idols from the Navagraha square-shaped constellation of the famous Thiruvalla Temple have been missing for almost 2,000 years. Temple priests approach Harani and Manikkam, the two tech-savvy teenagers, to find the idols. The two are also involved with the SpaceX project for human colonization of Mars. Added woes: Two space scientists from SpaceX vanish in their helicopter when flying over a powerful Shani temple.
Watch the video at: https://www.youtube.com/watch?v=EDNkN2Vvaz0
About the Author: Mohan Narayanan's first book in this series, "The Payyoli Pendant," was published in 2009. This is his sixth novel in eight years. Popular with American, European, and Japanese readers, all his books have been rated 4.5/5 stars and above, with each having been downloaded over 100,000 times. He teaches Business Management (MBA studies) at two of India's top universities and is also a noted playwright. He was inspired to write this book after visiting Mexico and taking a West Caribbean cruise to Honduras, Belize, and Yucatan.
"This world traveler has written another fascinating story combining mystery, Indian culture, and the planets' mysticism. We are thrilled to announce its release." – Robert Fletcher, CEO of Strategic Book Publishing and Rights Agency
THE PAYYOLI NINE: PLANETS IN A SQUARE (ISBN: 978-1-94653-992-2) is now available for $22.95 and can be ordered through the publisher's website:
http://sbpra.com/MohanNarayanan or at Amazon.com or Barnesandnoble.com.
WHOLESALERS: This book is distributed by Ingram Books and other wholesale distributors. Contact your representative with the ISBN for purchase. Wholesale purchase for retailers, universities, libraries, and other organizations is also available through the publisher; please email bookorder(at)sbpra.net.