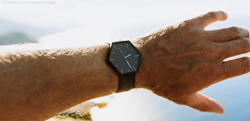 "'Beautiful and better' is our mandate" said founder, Adrian Solgaard. "Everything we create needs to have a benefit over traditional options. In this case, we spent two years designing and prototyping a watch that allows you to tell the time faster."
NEW YORK (PRWEB) November 15, 2017
SOLGAARD Design, known for its smart technology in travel and accessories has just unleashed their world-first hexagon shaped watch design.
HEX by SOLGAARD, a six piece collection, is aimed at individuals looking for a watch that stands out.
"'Beautiful and better' is our mandate" said founder, Adrian Solgaard. "Everything we create needs to have a benefit over traditional options. In this case, we spent two years designing and prototyping a watch that allows you to tell the time faster."
"Sitting the hexagon flat side down was crucial - this simple detail is what makes all of the difference. Our brains can more easily distinguish the orientation of the watch is because of this - we call it gravitational logic. In addition, there are six flat sides to a hexagon, and six corners. 6+6 = 12 - one for each hour of the day. This makes it faster for our brain to associate the time with a certain corner of the watch."
This feature is called glimpse-tech, making it possible to check the time without needing to raise ones wrist. This can help avoid the awkward social moment of checking time when in a meeting or even on a date.
"Rather than making an exclusive watch that costs thousands of dollars, we wanted to bring an exclusive watch to market at a reasonable price point."
There are six different watches: three for men and three for women. Each watch comes with a story of its own; how it was inspired. The watches, all made from high-end stainless steel, come with genuine leather straps. A vegan friendly women's option is also available with a metal mesh strap. Prices start at $199.
Downloadable images and more information can be found here.
ABOUT SOLGAARD Design:
Spearheaded by Adrian Solgaard, SOLGAARD Design creates gear for global citizens, producing products that embody adventure and a location independent lifestyle all while remaining eco-friendly. SOLGAARD has run three successful crowdfunding campaigns, including Lifepack, which raised over $1.2 million through Kickstarter and Indiegogo. The company, with a team of eight, is spread out around the world, living in New York, Seattle, Vancouver, London, Copenhagen, Barcelona and Hong Kong.
Solgaard, meaning, "sun farm" is the name of Adrian's family farm in southern Norway. Inspired by his Norwegian heritage, Adrian believes in a work life balance that includes finding enjoyment in every single day.