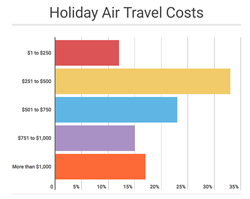 Taking a road trip can save you hundreds of dollars, even if you need to stay overnight along the way.
AUSTIN, Texas (PRWEB) November 15, 2017
The average cost of holiday travel is too much for some people with student loan debt; roughly 1 in 5 student loan borrowers can't afford it.
For those who do plan to travel, the top destinations are:
1. New York City, New York
2. Orlando, Florida
3. Los Angeles, California
4. Las Vegas, Nevada
5. Miami, Florida
Holiday travel costs can vary wildly depending on how and where you plan to travel. For example, traveling by air is almost always more expensive than traveling by car. It's also much cheaper to stay with family or friends than to book a hotel.
The survey found the following regarding student loan borrowers and holiday travel costs:

Fifty-five percent plan to fly. More than half of those travelers will spend between $251 and $750 on airline tickets, and 17 percent plan to spend more than $1,000.
Forty-three percent will drive a personal vehicle. Two-thirds of these road trippers expect to spend less than $200 on gas.
Sixty percent plan to pay for their accommodations, with more than half of those travelers expecting to spend more than $500 on hotel, resort, motel, and Airbnb stays.
Sixty-nine percent will spend $500 or less on miscellaneous holiday travel expenses, including food, airport and hotel parking, and rental cars.
"If you're unsure about whether you can afford holiday travel, rethink your approach," said Ben Luthi, lead researcher on the survey. "Taking a road trip can save you hundreds of dollars, even if you need to stay overnight along the way."
For the most part, student loan borrowers with holiday travel plans aren't paying for the trip using savings. To help deal with the costs, many plan to get creative. Here are the top five actions student loan borrowers are taking to afford the trip:
Cutting back in other areas of their budget (21 percent)
Opting for a cheaper destination (20 percent)
Earning extra cash with a side hustle (18 percent)
Selling unwanted items (11 percent)
Not buying gifts (8 percent)
>>>SEE THE FULL SURVEY RESULTS
Methodology: Student Loan Hero gathered the above results through a Survey Monkey survey completed on October 18, 2017. The survey collected responses from 1,008 millennials and Generation Xers. Less than 1 percent of respondents were baby boomers.
About Student Loan Hero
Student Loan Hero combines easy-to-use tools with financial education to help the millions of Americans living with student loan debt manage and pay off their loans. Student Loan Hero has helped more than 150,000 borrowers manage and eliminate over $3 billion in student loan debt since 2012 and assists over 3.5 million people in becoming more financially healthy every year.
Student Loan Hero offers both current and former students free loan calculators as well as unbiased, personalized advice and repayment plans through an easy-to-use online dashboard.
Founded in 2012 by CEO Andrew Josuweit, who himself had over $100,000 in student loans, Student Loan Hero operates on the belief that all loan help and recommendations should come with honesty and no hidden agenda.
For more information, visit https://studentloanhero.com.