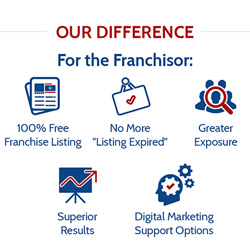 With the launch of All USA Franchises, inefficient searching for investors and lack of results for Franchisors are a thing of the past.
Miami, FL (PRWEB) November 22, 2017
All USA Franchises is proud to announce the launch of the first 100% FREE online directory for franchise companies in the United States.
This directory, which seeks to become the most popular destination for franchisors and entrepreneurs who are looking to invest in a franchise, aims to solve a major problem in the market: Franchises have a tough time marketing themselves unless they have deep pockets.
It is no secret that most franchisors and entrepreneurs are unsatisfied with other franchise directories. First, these directories are a paid service, which means that franchisors have to dole out their hard-earned cash to get listed. To make matters worse, franchisors rarely see the returns on their investment that they had hoped for. Then if they decide to cancel, their profiles are removed or branded with a hideous "Listing Expired" label. That, in turn, means that entrepreneurs only see the profiles of franchises that are willing and able to pay for access, which excludes hundreds of thousands of potentially great business opportunities.
Now, with the launch of All USA Franchises, inefficient searching and lack of results are a thing of the past. All USA Franchises uses cutting-edge technology that not only offers franchises the tools they need to help them maximize their online presence and generate good leads, but it also provides a one-stop shop for entrepreneurs who are shopping for franchises.
"I am very excited to be launching All USA Franchises. Having over 25 years of experience in Internet marketing and development, I've seen first-hand the struggles that franchises have in marketing themselves to investors and entrepreneurs and successfully growing revenues in their franchises. All USA Franchises is backed by state-of-the-art Digital Marketing Technology and Support that will allow it to quickly help provide an immediate positive impact on our Franchisors' ability to sell more Franchises. So being able to capitalize on the more than 3,000 franchise systems in the United States, provide them with a free listing in what will soon become the most popular franchise portal in the country, and a suite of digital marketing opportunities will, without a doubt, provide additional value to thousands of franchises in the USA," said Robert Blankenship, CEO of All USA Franchises and its parent company, WebFindYou.
There are many opportunities out there for franchisors, investors, and entrepreneurs as the number of franchise establishments and their economic output are expected to continue increasing in the coming years. There were 733,297 franchise establishments in the U.S. in 2016, according to a report by IHS Markit Economics. That number is expected to reach 745,078 by the end of the year. In fact, the GDP of the franchise sector is projected to outpace overall U.S. GDP growth this year, 5.1% to 3.9%.
Given that half of all new businesses fail within five years and nearly two-thirds fold in 10 years, finding the right franchise for your lifestyle and budget can make all the difference. That is why All USA Franchises is here to help. For more reasons why you should invest in a franchise, take a look at a recent blog post by All USA Franchises titled "5 Reasons Why You Should Invest in a USA Franchise".
All USA Franchises is backed by its parent company, WebFindYou, the global leader in All-in-One Digital Marketing Technology. WebFindYou's All-in-One Digital Marketing Platform has revolutionized the way that franchises create and manage their websites and digital marketing strategies.
Whether you are franchisor who is interested in All USA Franchises' services or an entrepreneur who is looking for business and franchise opportunities, All USA Franchises can help. For more information about their services or to be listed in their directory, visit http://www.allusafranchises.com or call 786-801-3274.