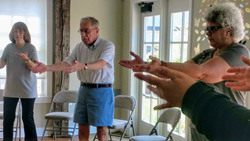 When you're in it, you don't realize it and you keep moving. You collapse and crash afterwards and realize the toll it takes on you.
BEDMINSTER, N.J. (PRWEB) November 15, 2017
Nancy Gonzalez is a full-time teacher who looks forward to the summer. Not for the break from her students or for the beach, but because it allows her to attend her favorite T'ai Chi Chih class at Cancer Support Community Central New Jersey (CSCCNJ) located in Bedminster, NJ. Gonzalez is no stranger to cancer, having been a caregiver for family members during their cancer journeys since 1990.
For Gonzalez, caregiving is part of who she is. She began caring for others at age eight, when one of her newborn twin brothers came home from the hospital with medical challenges. She states, "I thrive when I can care for others."
A naval veteran, Gonzalez believes that her early experience with caregiving prepared her for the military. With "dedication, discipline, and focus," she continued, "if I can get through caregiving, I can do anything, even boot camp." While in the military, she cared for her fellow soldiers by encouraging them to complete physical challenges and helping them study.
Today, Gonzalez is a Theology and Social Justice teacher at a high school in the Bronx. When her partner of 20 years, Ellen Brophy, was diagnosed with Stage 4 breast cancer in 2005, the hospital recommended Cancer Support Community Central New Jersey (CSCCNJ). Brophy and Gonzalez started participating in programs within a year. At first, Gonzalez came as a supporter for her partner, participating in the book club and writing workshops, thinking that the main focus of the organization was only for cancer patients. After Brophy lost a hard fought battle with cancer in 2013, Gonzalez kept coming to programs and continues to do so today exclaiming, "They haven't kicked me out yet!"
November is National Family Caregivers Month. This celebration began as Family Caregivers Week in 1994, established by President Bill Clinton, who lost his mother to breast cancer earlier that year. In 1997, Clinton signed the first National Family Caregivers Month Presidential Proclamation, and every year since then, the President of the United States has continued the tradition.
"Caregivers are the forgotten heroes in our country," says Amy Sutton, CEO of CSCCNJ, "At Cancer Support Community Central New Jersey, Nancy found she was not alone because the needs of caregivers are an integral part of our support services model. Through our unique approach to health and wellness programs, Nancy receives the tools she needs to enhance her health and wellness as a caregiver. Nancy shared with me that people often ask her why she doesn't just find a health and wellness 'class' near her home. She will reply that she is not looking for a class, she comes to Cancer Support Community Central New Jersey to be part of our community, helping to ensure that she never feels alone on her journey as a caregiver."
After a lifetime of caregiving, Gonzalez has a new role: caring for herself. She lost her mother, Lydia Gonzalez, in January of this year after fighting multiple cancers; since then, Gonzalez has focused on her own health after ignoring it for so many years. She revealed, "When you're in it, you don't realize it and you keep moving. You collapse and crash afterwards and realize the toll it takes on you." Today, Gonzalez battles Parkinson's disease and Osteoarthritis but finds comfort in T'ai Chi Chih, Mindful Meditation, and Yoga, among other classes that help her physical and emotional well-being while also providing her with the emotional support she needs.
"At Cancer Support Community Central New Jersey, we have data that proves that patients have a better experience with cancer if they care for their entire being, not just their disease, and we know that they are worried about the loved one who has made many sacrifices to care for them. So, by offering caregivers and other family members the opportunity to relax and relieve stress through programs like the ones Nancy utilizes, we see a benefit to the cancer patient as well," says Sutton.
"We don't put time limits on involvement in our programs, so even though Nancy and others are not caregivers in the literal sense of the word, they still need support," Sutton continued.
This month and every month, CSCCNJ celebrates caregivers and the important role they play in the health of their loved ones, by providing them with emotional, spiritual, and physical support when they need it and for as long as they need it.
Gonzalez has become a welcome, smiling face at CSCCNJ in Bedminster, NJ, where she is still a caregiver, giving back as much to the staff as they try to give to her. There, and in so many other places in her life, she is and always will be, a caregiver.
About Cancer Support Community Central New Jersey: Cancer Support Community of Central New Jersey (CSCCNJ) is a registered 501c(3) and an independently licensed affiliate of Cancer Support Community, an international non-profit organization. As experts in oncology mental health, the organization provides support, education, and hope to all people with cancer and their loved ones, so that no one faces cancer alone®. Backed by evidence that the best cancer care includes social and emotional support, CSCCNJ creates a supportive community to help individuals live with, through and beyond cancer. At no cost to patients, family members and caregivers, the organization delivers essential programs and services including individual and group support, educational workshops, nutrition and healthy cooking education, classes to enhance health and wellness and social activities for the entire family. For more information please visit their website at cancersupportcnj.org or call (908) 658-5400.