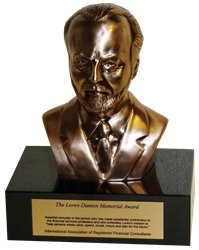 Like Loren Dunton, this person must be a visionary whose accomplishments have been significant and relevant to our industry... Chairman Steve Bailey
Middletown, OH (PRWEB) November 14, 2017
Generally regarded as the "Father of Financial Planning", Loren Dunton organized financial professionals in the late sixties and with their help created the financial planning movement. Dunton developed associations, magazines, colleges, university programs and foundations. He used his experiences to frankly explain what all financial consultants now recognize - that the ethical sales of financial products and the delivery of competent advice is a noble calling. Loren Dunton was a man of vision who cared deeply about both financial consultants and consumers.
Do you know a financial consultant who has made a substantial contribution to the financial services profession and/or the financial interests of the public? If you do, now is the time to submit his or her name for the 2018 Loren Dunton Memorial Award, the IARFC's highest honor.
Nominations are being accepted by filling out the Nomination form and sending it to the IARFC.
Candidates must meet specific criteria:

Hold a professional designation (i.e. ChFC, CFP®,CLU, RFC®, MRFC, CPA/PFS, CEBS, MSFS, MSFM or Doctoral degree)
Be widely published on financial topics in articles, journals, books, etc.
Have provided outstanding personal service or leadership in the financial services industry
Have participated in some aspect of financial education, to the public or to other members of the profession
Possess high ethical and professional standards subscribing and adhering to his or her professional Associations' membership Code of Ethics, and/or have a sound record of business integrity with no suspension or revocation of any professional license.
"This is the most prestigious honor that the IARFC awards," explained H. Stephen Bailey, MRFC, IARFC Chairman. "Like Loren Dunton, this person must be a visionary whose accomplishments have been significant and relevant to our industry. Past recipients have included leaders in financial services both domestic and international."
Nominations close November 30, 2017. The actual award will be presented at the 2018 IARFC Biltmore Conference in Asheville, N.C. on April 18 by the 2017 winner Ric Edelman, RFC® of Edelman Financial Services.
For additional information on the IARFC and the Loren Dunton Memorial Award, visit http://www.iarfc.org.