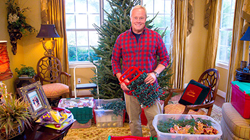 The last thing anyone wants is to deal with during the holidays is stress! The good news is there are plenty of homeowner-friendly tools and technology designed to put minds at ease while preparing for the season."
MOBILE, Ala. (PRWEB) November 14, 2017
The holidays are a magical time of year, but can often be accompanied by major stress. America's home expert Danny Lipford hosted a nationally televised satellite media event today, offering millions of homeowners tips to avoid holiday headaches and enjoy the peace and comfort of the season.
"Holidays are all about spending time with family & friends," says Lipford. "The last thing anyone wants is to deal with stress! The good news is there are plenty of homeowner-friendly tools and technology designed to put minds at ease while preparing for the season."
Broadcasting live from a residence in Mobile, AL, Lipford connected with 24 journalists nationwide offering viewers a variety of easy and affordable projects to improve their homes and make them more comfortable, cozy and safe for the holidays.
Decorating is at the top of the stress list for many homeowners. The chore of untangling holiday lights, only to find strands working partially or not at all, is enough to make any homeowner head for the hills. Lipford introduced viewers to the Lightkeeper Pro, designed for traditional lights and its companion, the LED Keeper, for LED strand lights. These handy tools detect problems and repair decorative lights with the simple pull of a trigger. The LightKeeper Pro sends a pulse through the light set, finds the bad bulb and fixes the shunt—allowing the light set to work properly. At less than $20, Lipford recommended adding one to holiday shopping lists this year.
Another stressor for many homeowners this time of year is home comfort. With winter on the way, many are cranking up fireplaces and heating systems, and it can be difficult to maintain a consistent temperature in the home. To solve this common problem, Lipford showed viewers the latest in home comfort technology from Carrier. The Côr 7 smart thermostat allows homeowners to adjust settings from anywhere via its mobile app. The system also provides instant feedback on estimated energy use, allowing homeowners to optimize comfort and savings. In addition, Lipford explained that the Côr system is compatible with most existing home comfort systems, Amazon Alexa and Apple HomeKit.
Finally, Lipford offered advice on increasing home safety during the holidays. With so many people shopping online, package theft is a common occurrence, particularly this time of year. And with most thefts occurring between 10 a.m. and 3 p.m. while people are at work, school and running errands, it can be difficult to prevent.
Lipford showed viewers a solution with a new innovative doorbell from NuTone. The NuTone Knock smart video doorbell allows homeowners to view and record activity surrounding their front door and even talk to visitors, all from a remote location via any Wifi-enabled tablet or smartphone. The system offers a 180-degree, high definition camera with built-in night vision enabling users to see clearly even in low-light conditions.
He also recommended keeping shrubs trimmed and installing motion-sensor or timed lights for the front door area as additional deterrents for potential thieves.
The media tour was sponsored by Lightkeeper Pro, Carrier and NuTone and reached an audience of more than 20 million viewers. A broadcast-ready clip of the event is available to the media.
About Today's Homeowner Media
Today's Homeowner is a trusted home improvement authority delivering fresh, original, practical advice to consumers across diverse media platforms including the top-rated, nationally syndicated Today's Homeowner television show, entering its 20th season and its radio counterpart, the nationally syndicated Today's Homeowner radio show. Additionally, the media brand hosts the top home enthusiast destination website, TodaysHomeowner.com, drawing nearly 2 million monthly visitors, robust social media channels and the award-winning lifestyle blog and web series, Checking In With Chelsea. 3 Echoes Productions, the professional production arm of the brand, serves an impressive national clientele with expert video services.
Host and founder of the brand, Danny Lipford, is among the most sought-after home improvement experts in the country. The seasoned remodeling contractor and media personality served as the home improvement expert for CBS's The Early Show and The Weather Channel for over a decade and has made more than 180 national television appearances on FOX&Friends, Inside Edition, Morning Express with Robin Meade, FOX Business Channel, Rachael Ray and more. He travels the country making appearances as a brand ambassador and spokesperson, and contributes expertise to hundreds of popular magazines and online media outlets each year.