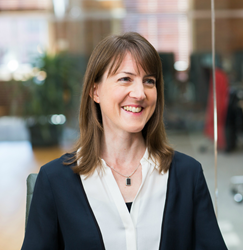 FORT LAUDERDALE, Fla. (PRWEB) November 15, 2017
Parkson Corporation has announced today that Clare Peeters will be joining the company as its COO/ Chief Operating Officer. Ms. Peeters will be responsible for all operational, manufacturing, administrative, human resource, and strategic oversight for the corporation.
Prior to her role at Parkson, Ms. Peeters was a VP and Managing Director of Corporate Development at Axel Johnson Inc., where she was responsible for evaluating new investment opportunities, including in the water and wastewater treatment sector, and provided strategic and operational support to AJI's portfolio companies. Prior to joining AJI, Ms. Peeters worked in the book publishing industry for Random House Inc. and The Perseus Books Group in a variety of corporate development, business development, and operating capacities. She was also a management consultant for The Monitor Company in both the US and The Netherlands, working across a diverse range of industries. Ms. Peeters holds an AB in Economics from Harvard and Radcliffe Colleges and an MBA from Harvard Business School.
Shamus Hurley, Parkson's President and Chief Executive Officer stated that, "Clare's background in management consulting and as an operating executive has given her a first-hand view of the operational challenges and sometimes disruptive change that many industries fail to recognize and manage. This experience and her knowledge of the industry in which we compete, gives us every confidence that Clare will allow us to set the bar higher in meeting and exceeding our stakeholder's expectations."
About Parkson Corporation
Parkson Corporation, with offices in Fort Lauderdale, FL; Golden, CO; Chicago, IL; Kansas City, MO; and Dubai, UAE, is a supplier of equipment and solutions for potable water, process water, and industrial and municipal wastewater applications. Parkson designs, engineers and assembles products that provide customers with advanced screening, biological, filtration and biosolids management solutions. The company was founded in 1960 and has been owned by Axel Johnson Inc. since 1967.