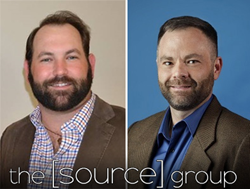 We envision The Source Group to be more than a local business, we see ourselves as a members of the community.
DALLAS (PRWEB) November 15, 2017
Late last month, east Dallas Real Estate Agents and Source Group founders, John Jones and Conner Cromeens hosted a local food drive for families in need in the Dallas area.
The event, billed as "Party with a Purpose", was held in conjunction with Dallas program, "Our Calling", which performs outreach to local homeless by providing food, guidance, and medical assistance.
Dallas homeless populations have increased significantly in the last few years, prompting The Source Group to plan these types of events to help bring awareness and offer assistance.
"We envision The Source Group to be more than a local business, we see ourselves as a members of the community," says Cromeens, who has had many clients which have become his lifelong friends. "When we look around, we see neighbors, and friends, and family, not simply clients and customers."
Hosted at the Yucatan Taco Stand on Greenville Avenue, approximately 100 area residents were in attendance at the event, with entertainment provided by local talent, Greg Reichel and the Big Flats. Combined, the Source Group was able to collect enough food to provide approximately 300 warm meals to local families in need.
"Giving back to the community is an essential aspect of our work," explains Jones, who is a life-long resident of east Dallas. "We don't just work here, we live here too."
About The Source Group
Founded by East Dallas real estate agents John Jones and Conner Cromeens, The Source Group is a client focused, high performance team in the Briggs Freeman Sotheby's family. Combined, the two founders bring vast and diverse experience and expertise from a variety of related areas, that help give them a unique perspective in combination with their detailed knowledge of the nuances of the Dallas neighborhoods. In addition to working in the Dallas real estate market, the duo also have experience in mortgages, home building, commercial construction, forensic auditing, zoning, and investing. Lifelong east Dallas residents themselves, The Source Group emphasizes utilizing information technology and delivering a personalized experience through a warm and authentic approach to home buying in Dallas. Please visit http://www.homesourcedallas.com for more information about the Source Group.