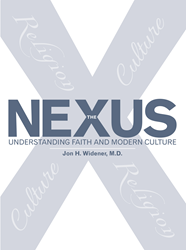 ORANGE BEACH, Ala. (PRWEB) November 27, 2017
A retired orthopedic surgeon has published a comprehensive reference guide to the intersections of the Christian faith and modern society, through which he aims to further educate Christians on the practical application of their beliefs while also equipping them as knowledgeable apologists.
In "The Nexus: Understanding Faith and Modern Culture," author Jon H. Widener, M.D., puts forth an alphabetized compendium of more than 1,800 cultural artifacts that impact and are impacted by Christianity, including up-to-date economic, social, spiritual and political trends. Inspired by his own observations as an educator in the Southern Baptist Church, Dr. Widener prepared "The Nexus" in an effort to combat tendencies for anti-intellectualism among believers.
"As a Sunday school teacher for over 20 years, I've noticed a pervasive anti-intellectual bent in many of my students," Dr. Widener said. "They tend to dismiss intellectual matters and are often unfamiliar with aspects of today's culture that impact their faith. 'The Nexus' is meant to provide a solution to this so that Christians are better-prepared to go to bat for their beliefs in an informed and intelligent fashion."
"This book is an invaluable reference tool for anyone, especially Christians who need to stay abreast with old and new words and terms in order to understand and defend their beliefs and positions," an Amazon customer wrote in a five-star review of the book.
A useful resource for Christians of all backgrounds, "The Nexus" offers readers a practical and educational approach to growing their understanding of their faith while also providing them with tools to defend their beliefs in critical or secular settings.
"The Nexus: Understanding Faith and Modern Culture"
By Jon H. Widener, M.D.
ISBN: 978-1-5127-9133-4 (paperback); 978-1-5127-9132-7 (electronic)
Available at the WestBow Press Online Bookstore, Books-A-Million, Barnes & Noble and Amazon
About the author
Jon H. Widener, M.D., is a retired orthopedic surgeon and a long-time Southern Baptist Sunday school teacher. Dr. Widener completed his medical degree at the University of Louisville School of Medicine and his residency in orthopedic surgery at the University of Alabama in Birmingham. In his free time, he enjoys playing and teaching others how to play the five-string banjo. Dr. Widener currently resides in Orange Beach, Ala. To learn more, please visit http://www.nexusoffaithandmodernculture.com.
###
Review Copies & Interview Requests:
LAVIDGE – Phoenix
480-648-7557
dgrobmeier@lavidge.com
General Inquiries:
LAVIDGE – Phoenix
480-998-2600 x 584
mdriver@lavidge.com