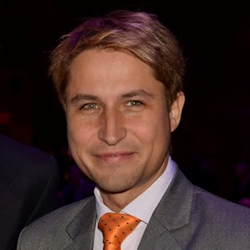 With access to 100,000 investors, Mr. Drake is a powerful force in the venture capital world.
Singapore (PRWEB) November 16, 2017
Blockchain-based commodity trading platform ChainTrade has announced that David Drake will join their advisory team. Mr. Drake is Chairman of LDJ Capital and a recognized expert on the blockchain.
"We are very excited to bring David onboard," said ChainTrade founder and CEO Vincent Jacques. "His experience with digital tokens is unprecedented, and we plan to take full advantage of his insights and expertise as we push forward with our project."
With access to 100,000 investors, Mr. Drake is a powerful force in the venture capital world. Through his family office, LDJ Capital, and his partners, David's investments currently have over fifty global directors that maintain relations with institutions and family offices with $1.5 trillion in assets. In addition, Mr. Drake's media holding investment The Soho Loft Media Group has produced and sponsored over 1100 global finance conferences.
Unparalleled Expertise in the Blockchain
Through this vast network, ChainTrade is excited to leverage Mr. Drake's global expertise in investing and the blockchain. Bringing together like-minded individuals and thought leaders will allow ChainTrade to raise further funds for its ongoing ICO, which ends Dec 16.
As recognized expert in blockchain implementations, Mr. Drake and his firm will act as a guide for ChainTrade through this next crucial phase. He will also help connect ChainTrade with other institutional investors and experts on compliance, regulation, and exchange trading.
"I have worked with a number of successful digital assets and tokens now, and I believe that ChainTrade is uniquely positioned to help redraw the lines of the commodities market. It's clear to me that there's some very real interest in this project among investors. It's going to be exciting to watch it come to fruition next spring with the public launch of the platform," said David Drake.
"Vincent is a very insightful leader, and as far as I have seen, ChainTrade is one of the blockchain ideas I am most excited about. I'm looking forward to helping Vincent and his team as they seek further venture funding for the project."
A firm believer in the power of digital automation, Mr. Drake is a pioneer in the fields of technology, media, and telecommunications. He has represented the US Commerce Department at the EU Commission in Brussels and Rome and was invited to the White House Champions of Change ceremony. He has also spoken to the UK Parliament.
About ChainTrade
As the world's first blockchain commodity trading platform, ChainTrade is positioned to help revolutionize a $2 trillion market by decentralizing trading and lowering fees for traders. At the moment, a few powerful exchanges charge high fees and give some investors preferred terms. ChainTrade will drive down these fees by more than half, and throw open the doors to investors and traders anywhere around the globe.
ChainTrade founder and CEO Vincent Jacques brings a unique combination of skill and experience to his team. A successful entrepreneur and expert in the field of AI, his previous startup Planorama successfully grew to a $25 million valuation.
Potential investors can visit https://chaintrade.net/ now to explore purchases of ChainTrade tokens.