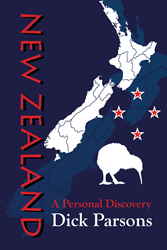 HAMPSHIRE, England (PRWEB) November 27, 2017
A veteran of the Royal Navy and travel writer has released an adventurous book that takes readers on a cultural and historical tour of New Zealand more than two centuries after British Captain James Cook first crossed paths with the country's diverse people and captivating landscapes.
In "New Zealand: A Personal Discovery," author Dick Parsons presents a comprehensive look at the archival significance, societal development and geographic formation of New Zealand, which marries his personal experiences while visiting the country with his extensive research on its evolution over the course of many centuries.
"After just two visits to New Zealand, I was fascinated by the country's incredible volcanoes, mountains, glaciers, geysers, forests, lakes and unique flora and fauna," Parsons said. "The mysterious coming and settlement of the Polynesians and later the Maoris in the 'Land of the Long White Cloud' fired my imagination and wonder. How did they do it? The warmth of New Zealand's people only enhanced my zeal for the country – I really had no choice but to put pen to paper."
With detailed background on New Zealand's rich history, Parsons' book puts forth a colorful and passionate examination of "Kiwiland," as he affectionately calls it, from its birth millions of years ago when the Antarctic supercontinent of Gondwana broke up to its modern-day reputation for hospitality, beauty and diversity.
"New Zealand: A Personal Discovery"
By Dick Parsons
ISBN: 978-1-5246-7975-0 (hardback); 978-1-5246-7973-6 (paperback); 978-1-5246-7974-3 (electronic)
Available at the AuthorHouse Online Bookstore, Barnes & Noble and Amazon
About the author
Dick Parsons joined the Royal Navy as a Naval Cadet at age 13 and is a graduate of the Royal Naval College Dartmouth. He retired as a Lieutenant Commander after 32 years of service and two sea commands. Parsons is an experienced sailor and is the author of "Turbans," "A Fisher of Slaves" and "New Zealand: A Personal Discovery." He currently resides in Hampshire, England. To learn more, please visit http://www.dickparsonstales.com.
###
Review Copies & Interview Requests:
LAVIDGE – Phoenix
Danielle Grobmeier
480-648-7557
dgrobmeier(at)lavidge(dot)com
General Inquiries:
LAVIDGE – Phoenix
Maggie Driver
480-998-2600 x 584
mdriver(at)lavidge(dot)com