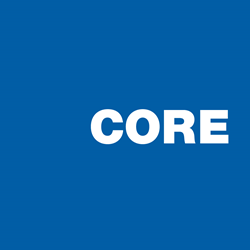 We wanted to create a public gathering space at our global headquarters that would promote productivity and highlight hotel-worthy features ranging from innovative design elements to global food and beverage offerings.
WASHINGTON (PRWEB) November 16, 2017
Hilton's global headquarters in McLean, VA now has its own public gathering space that mirrors the experience of the hospitality provider's hotels, due to a major renovation led by CORE architecture + design (CORE). CORE, with Hilton and landlord B. F. Saul Property Company, renovated the 10,000 SF ground-floor interiors and created 6,300 SF of exterior space to become "The Social."
"Hilton wanted their global headquarters to become an extension of their renowned hospitality experience," said CORE principal Allison C. Cooke, AIA. "They sought CORE out for our blended expertise in restaurants and hospitality design, as well as corporate interiors. The space is now vibrant and bustling, with food and beverage at its heart. It reflects Hilton's global Team Members, properties, and leading hospitality."
With the amenity of food and beverage, The Social will encourage formal and informal meet-ups, increasing interaction among Hilton Team Members and guests alike. The Town Square encourages people to visit at any time of day to work either together or socially alone.
CORE specifically explored ways that physical space and people connect:

Spaces. Using pathways, edges, moments of discovery, CORE created a delightful, simple experience while addressing a long list of program elements. They reviewed urban planning principles – grand avenues, scale, and visual cues – to understand how to direct the flow and interactions.
People with one another. People connect in a variety of ways and occasions, so CORE provided differing environments from the intimate to the grand. They took inspiration from studying all types of social interactions.
People with the larger world. Since Hilton has global reach, CORE had to create a space that evokes a sense of something greater. A space that evokes emotions, memories, adventure, and a sense of connection to other places and properties.
People with food. Studying how people eat globally, together, alone, quickly, and lavishly, CORE used furnishings, lighting, and environment to accommodate all of these eating options.
"This space has many purposes but connection was at the heart of it all. We had to connect spaces and people with one another, with the larger world, and with food," said CORE project lead Daniel C. Chapman. "The aesthetic design had to represent Hilton's global brand: modern and warm with refined details and natural materials. The space is very architectural with its dynamic, angular geometries – creating avenues and views within the space – tempered by warm textures."
CORE selected a composition of woods (Walnut and ash), textures, metals and textiles for a timeless and tactile environment that addressed eating, working, and reception functions. The balance is a functional work and teaming space with the sensibility of a restaurant, coupled with the approachability needed for the new Greet Hub to welcome visitors. The sum of these parts is both professional and sociable. Each food station in the Food Hall wanted its own identity as well, so CORE carefully incorporated materials that gave each one a distinctive presence while still transitioning smoothly from one to the next.
In the Food Hall, CORE developed 6 food station identities in collaboration with the Hilton food and beverage team, Hilton Design Team, and Sodexo (Food Hall operator). Each station has a defining feature and finish palette.

The Spice station, at the gateway to the Food Hall from the Town Square, has a custom brushed-brass oval cooking hood that highlights an action station, with a simple white marble and blue glass mosaic tile backdrop. A dining counter at this station wraps the corner, encouraging interaction and tastings.
Sammie's, a sophisticated New York style deli, incorporates black and white brick tile and sleek brass accents.
Char, a grill-focused station, has the most masculine palette with concrete panels and blackened steel.
Mangia, providing Italian-focused cuisine from pizzas to roasted seasonal vegetables to paninis in its artisan oven, is clad in a custom red, black and white mosaic tile design.
Home, reminiscent of Provençal-style home cooking, with hearty oven-baked dishes, features a handcrafted finish palette of walnut, patterned tile, and French blue to match.
Graze is the healthiest of offerings, featuring crafted salads, uses modern white tile, green accents, and natural walnut to enhance the identity of the station. A vertical refrigerated display of salad greens acts as its backdrop.
In the center of the Food Hall, guests can also browse a series of islands. This area was designed to complement the food offered at the stations, and also to be the quickest and most convenient self-service option for guests. One island holds a variety hot and cold fresh foods and the other has grab and go refrigeration for pre-packaged offerings.
The Outdoor Terrace flanks the west side of the Town Square seating area, and CORE designed an operable glass wall to allow the spaces to flow seamlessly. The Outdoor Terrace is an extension of the flexible workspace and can host headquarters activities. Paving materials create visual zones in the outdoor area for a diversity of seating options that mirrors the indoor Town Square. A firepit surrounded by gracious lounge seating acts as the Terrace's focal point. Plantings and glass windscreens shield the edge of the Outdoor Terrace from heavy winds. Plantings and precast concrete seating elements also highlight sightlines and views by playing with height and density. New mature trees, as well as modern canopy structures over the lounging and communal dining areas to the South, provide shade. To the North, outdoor foosball tables extend the indoor Gaming Area adjacent to a bar height counter and grill station, which are shaded by a modern canopy structure.
"As the most hospitable company in the world, we are excited to create a welcoming space for our Team Members and guests," said Pierce DeGross, vice president, global workplace services. "We wanted to create a public gathering space at our global headquarters that would promote productivity and highlight hotel-worthy features ranging from innovative design elements to global food and beverage offerings."
CORE began working with Hilton in July 2016. The interior renovation was completed in November 2017. The Outdoor Terrace will be completed in Spring 2018.
In addition to CORE, project team members included: Hilton Food & Beverage, IT, Design, Workplace Services, and Branding Teams, HITT Contracting Inc. (General Contractor), MGAC, Inc. (Project Manager), Fernandez Associates (Structural Engineer), Rathgeber/Goss Associates (Structural Engineer), Caliber Design Inc. (MEP Engineer), Walter L. Phillips, Inc. (Civil Engineer), Next Step Design (Foodservice Designer), Landscape Architecture Bureau LLC (Landscape Designers), George Spano (Acoustical Consultant), RDC AIA (LEED Consultant), MCW Solutions (A/V Consultant), Sodexo (Operator), Washington Group Solutions (FF&E Procurement), MC Sign Company and Copeland Signs (Signage), and Starbucks (Starbucks Designer).
About CORE architecture + design
CORE architecture + design (CORE) is celebrating over 25 years of design innovation and steady growth as an internationally recognized firm. Led by Principals Dale A. Stewart, AIA, I. Guyman Martin, AIA, Allison C. Cooke, IIDA, LEED AP, and David Cheney, AIA, the Washington DC-based firm has won over 100 design awards. CORE thrives on complex projects and leads with experience, while understanding that their best work comes from designing hand in hand with their clients. Bringing a spirit of exploration to each project, CORE believes that intentional design has the power to shape experiences. The company's talented team applies a collaborative design process to a wide range of environments and building types, including mixed-use developments, public buildings, large-scale office and residential developments, chef-driven restaurants, and hotel public spaces. Visit coredc.com and follow COREdc on Twitter, Instagram, Facebook, and LinkedIn.