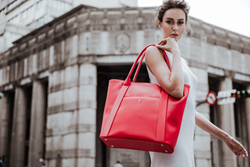 The updates to the whole line has been function and purpose driven, while still maintaining a sleek and sophisticated look
San Diego, CA (PRWEB) November 15, 2017
Vessel bags are undoubtedly some of the most luxurious, stylish bags around. From their golf bags and luggage to their backpacks, when you buy a Vessel bag you're making a statement about who you are and where you're going. But soon, there will be more to love about your favorite bag. Vessel is unveiling its new premium 2.0 line and opening its flagship store at Westfield UTC in La Jolla, California November 24th.
At Vessel's first brick and mortar store, you'll be able to touch, see and experience this premium brand in store. When you customize a bag, you'll actually be able to feel the leather and see the array of color and texture options, making designing your own bag that much easier.
While Vessel bags have always been top-of-the-line, the company's perpetual drive for excellence prompted the 2.0 collection. Some of the thoughtful new features include an interior pocket that's deeper and wider for easier use, new designer color combinations to choose from, and tubed handles for an easier carry. Each bag in the 2.0 line will also feature the Filled With Purpose lining, a special lining to remind customers that Vessel donates a backpack to a child in need every time a customer buys a Vessel bag. So far, it's given out more than 18,000 backpacks through its Buy One, Give One program.
Here are some of the 2.0 Collection bags that will be on holiday wish lists:
2.0 Backpack – Modern, sleek, compact backpack for easy traveling. Upgraded with a trolley handle sleeve for comfortable carry and equipped with additional padded shoulder straps and water-resistant pockets for effortless organization.
2.0 Tote – Stylish, minimalist logo hardware on pebbled or satin leather. Designed to keep its structured shape for years to come.
2.0 Duffel - Perfect for overnight and weekend travel, this contemporary luxury duffel keeps everything organized. It's easy to stack with a rolling suitcase.
2.0 Toiletry bag – Features a book style opening to elegantly create storage for all your essentials. Hangs on any towel bar or hook for easy access.
Vessel will be thanking its first 200 customers on Black Friday with a special opening day gift of a free limited-edition Vessel item.
ABOUT VESSEL:
Headquartered in Carlsbad, CA, Vessel is trusted by more than 70 PGA and LPGA professional athletes and over 20 celebrities. Each bag is handcrafted through quality and innovation to reflect the unique personality of every Vessel customer. Vessel is a company that strongly believes life is an adventure filled with purpose. Vessel bags allow you to carry a customized design to inspire the world with your own vision, creativity, and chic style.
For more information on Vessel or where to purchase one of these luxurious bags, visit http://www.vesselbags.com.