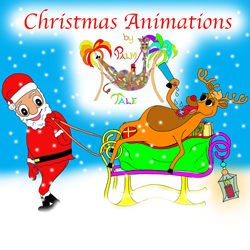 A must have this season!
MALAGA, Spain (PRWEB) November 16, 2017
Offering 25 animated stickers, "Christmas Animations" allows people of all ages to add charm, fun & color to their daily iMessage conversations. The stickers have been specifically created for this Christmas season to convey warm hearted emotions and activities in a joyful & inspiring way: users can now iMessage their seasonal activities with motion!
Palm Tale is in winter holidays mood and provide skilful animations for all season events and activities. You can now invite friends and family for Christmas dinner with a cute jumping Christmas tree that holds an invitation sign. Engage friends in sports activities by sending them a sledging or skating reindeer, a skiing star or a snowboarding Christmas tree.
Animate the neighbourhood kids to build a snowman together with Palm Tales fun snowman-build animation. Have you ever seen a dancing Santa with his reindeers? A Santa getting stuck in the chimney or Santa dragging his exhausted friend on the sledge? There are animated stickers for all of that, and they are really funny! With these unique animations one can spread the Christmas spirit during the advents, while preparing for the festivities and also on Christmas parties. One can make sure to be kissed under the mistletoe by sending a cute kissing candles animation to your chosen one.
Palm Tale tops their creations with the funniest cork rocket and a volcano that lights himself on fire, wishing everybody a HAPPY NEW YEAR 2018.
You can get an insight of this must have animated sticker pack on Palm Tales website, where they display a short movie of it right on the front page! Here is the link: https://www.palmtale.com
In addition to the sticker animation fun, Palm Tale has created a colourful, warm and educational Christmas Picture Book for children up to 7 years. This book tells the story of Happy the dog that can't wait to decorate the Christmas tree, but an unforeseen event happens. He has to take an important decision which could mean that the Christmas tree won't look as majestic this year as they all expect. Which is the right decision, and will Happy manage to take it? Dip into a heartwarming Christmas story on the tropical Palm Island.
The new Christmas iMessage sticker app "Christmas Animations" is available from the Apple AppStore at:
https://itunes.apple.com/ch/app/christmas-animations/id1307955847?l=en&mt=8
The book is available at Amazon.com:
Paperback and Kindle: http://a.co/8QEtmzE
Apple iBooks: https://geo.itunes.apple.com/us/book/taking-the-right-decision/id1276011336?mt=11
More information is available at: https://www.palmtale.com