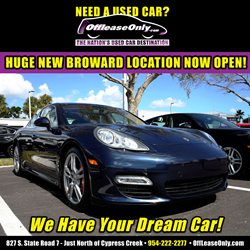 Off Lease Only is a breath of fresh air with no hidden fees and no stress of negotiating price.
NORTH LAUDERDALE, Fla. (PRWEB) November 16, 2017
Car shoppers in Broward County have proven themselves to be very excited to have an Off Lease Only used car dealership in their own backyard. The used car dealer has been working on opening their North Lauderdale location for two long years.
Since opening just weeks ago on November 2nd, 2017, the used car dealer has sold over 200 cars and is already on track to be the largest volume dealer in the area. They have also employed 140 people at their new location.
Off Lease Only was built on a vision to provide a unique and transparent used car buying experience. One free of negotiating price and hidden fees that have become overwhelming to used car shoppers.
"Off Lease Only is a breath of fresh air for the used car buyer wherever we open. We are long overdue to give our Broward clientele their very own dealership, I couldn't be more thrilled that our doors are officially open," exclaimed owner Mark Fischer.
Thousands of used cars, priced thousands below retail, is what you can expect to find when shopping at any Off Lease Only Location.
An impressive selection of nearly every make/model used car line the lot offering customers an exceptional amount of options. Off Lease Only's team of buyers scour online auctions daily throughout the entire country to give customers a selection second to none.
"Skip the depreciation of buying a new car, and save yourself thousands buying a gently used car instead," said Fischer.
Most Off Lease Only inventory consists of 1-3 year old vehicles that are still under factory warranty. Not to mention customers are encouraged to take their vehicle of choice to their own mechanic prior to purchase for additional peace of mind. They also have extended service agreements for those interested.
Providing a transparent used car buying experience is what owners Mark & Eileen Fischer set out to do over two decades ago, and their focus has never changed. They bought two cars with their life savings and have since grown into the largest volume independent used car dealer in the country.
"I want every customer to be extremely happy and become a loyal customer for life," exclaimed Fischer.
Saving customers thousands of dollars on their pre-owned car purchase and caring about every customers satisfaction makes each Off Lease Only Dealership shine above the industry.
With nearly 200,000 happy customers worldwide, used car shoppers can feel confident that they are shopping with a company that cares about the consumer before, during and after the sale.
Not only is Off Lease Only A+ Rated on the Better Business Bureau, they are also DealerRater's Used Car Dealer of the Year and an Edmunds Five Star Dealer for the third consecutive year. These awards are based 100% off customer reviews and feedback.
Those looking to save thousands on their next used car should definitely log onto OffLeaseOnly.com to compare prices in the market. Even if you live elsewhere, Off Lease Only's home delivery option makes saving thousands on your next used car easier than ever.
Often times, if an advertised price at another car dealer comes even close to an Off Lease Only price, make sure to read the fine print to see what other fees could possibly be hidden.
If you're local, make sure to stop by and show your support Friday, December 1st @ 1pm for the official ribbon cutting at their brand new Off Lease Only North Lauderdale location.