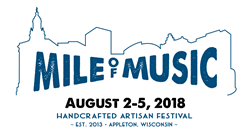 We would much rather be working to prevent a hearing problem from happening now than fitting a hearing aid later.
Appleton, WI (PRWEB) November 16, 2017
As part of the Artist Care program offered at the Mile of Music festival in Appleton, Wisconsin, About Better Care Audiology donated its services and completed more than 70 hearing screens for participating performers.
Stephanie Long, AuD, and her staff embraced this opportunity to support visiting musicians and educate them about key strategies for hearing loss prevention.
"Our clinic participates in the Artist Care Program at Mile of Music because we love what the festival does for the community," Dr. Long explained. "To us, it's important to teach musicians about proper ear protection because they are especially susceptible to hearing loss."
As part of several extra care services Mile of Music extends to its artists, the hearing screens were completed at the festival in Downtown Appleton and also at About Better Care's clinic location. Dr. Long and staff checked the artists' ears for obstructions, performed standard hearing tests and offered a more comprehensive exam if anything unusual was found. The team focused a lot of time on providing artists with tips for improved hearing protection. These included everything from re-configuring the placement of speakers at shows to wearing in-ear monitors, ear plugs and stock/custom molds for better sound filtering and volume control.
"We would much rather be working to prevent a hearing problem from happening now than fitting a hearing aid later," Dr. Long said. "Music is something these artists love and we want them to be able to continue enjoying their craft for many years to come."
In addition to performing more than 70 hearing screens, About Better Care distributed more than 3,000 earplugs throughout the four-day music festival which featured 225 artists and 900-plus live performances.
Mile of Music first introduced its Artist Care Program in 2015 as a way to show the community's appreciation for festival performers. Along with the hearing screens offered by About Better Care this year at Mile 5, artists also had the opportunity to receive complimentary dental exams, optical exams, physical therapy, massage therapy and other care services.
"The main goal of this program is to take care of the artists who come to perform in Appleton and make them feel welcome here," said Dave Willems, Mile of Music managing director and co-founder. "We are fortunate to have About Better Care among our network of supporters."
Mile of Music will return to Appleton in 2018 from August 2-5.
ABOUT MILE OF MUSIC
Mile of Music is an artisan, all-original music festival that launched in August 2013 as a creative economy driver in Downtown Appleton, Wis. The four-day festival is held in August with the support of more than 100 community sponsors and 400 volunteers, featuring nearly 1,000 live music sets from 250 artists at 70 venues along the one-mile, walkable stretch of College Avenue and the nearby riverfront.