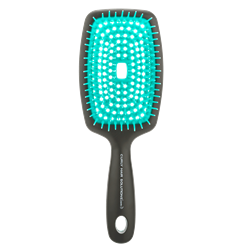 The Flexy Brush is a stand out product
TORONTO (PRWEB) November 30, 2017
Curly Hair Solutions® is thrilled to release the brand new Flexy Brush, designed as the number one brush for detangling unmanageable manes. The state-of-the-art brush is the latest product to join the exceptional hair care line-up at Curly Hair Solutions®. With each and every Curly Hair Solutions® product, solving all curly hair problems is a must, and the Flexy Brush is no exception. "The Flexy Brush is a stand out product," says Curly Hair Solutions® founder, Jonathan Torch. "It differs greatly from traditional brushes, that may - in some cases - actually increase hair loss."
The brush performs on both wet and dry curl textures and is perfectly designed for shower use. By combing through conditioner and shampoo, the scalp becomes cleaner and less prone to bacteria and/or product build-up. The brush's open cushion design augments airflow when blowdrying and allows for an easy, no mess clean-up. The Flexy Brush's unique multi-dimensional silicone bristles are ideal for sensitive scalps and stubborn knots. And if all those benefits aren't enough, what innovative feature really sets the Flexy Brush apart? The only brush of its kind, the Flexy Brush exfoliates while detangling, actually stimulating blood circulation which minimizes hair loss and maximizes hair growth.
The Flexy Brush can be used on wigs, extensions and blow-dry styling. The brush is 100% child-friendly, built strong and durable, it is expertly designed for little curlies with tangled locks - without the tears! When using the Flexy Brush it is recommended to start from the ends (tips) and work upwards to the roots. While the longer more flexible bristles exfoliate, the shorter bristles remove tangles. The brush retails for $16 and is available for purchase at The Curly Hair Institute and online at https://www.frizzoff.com/flexy-brush.html
For more information about Curly Hair Solution's® full line of hair care products including the Curl Keeper® collection, visit http://www.frizzoff.com.
About Curly Hair Solutions: Curly Hair Solutions® and the Curl Keeper® Collection are curly hair products perform 100% of the time, on every curly head, in all weather conditions, without the use of silicones. Our ingredients are natural, biodegradable and are not tested on animals. Our products have been perfectly pH balanced to match our environment to our bodies resulting in healthier, shinier, and a more controllable result every time.