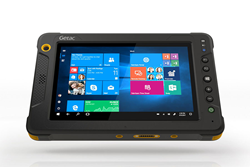 For years, 'pen and paper' have been the only safe option for some of the most extreme work areas in the world.
CHANDLER, Ariz. (PRWEB) November 16, 2017
Group Mobile, a rapidly expanding premiere provider of innovative, full service mobile technology solutions has expanded its product line to include the Getac EX80 fully rugged tablet, the first Zone 0 device in Getac's lineup -- ATEX / IECEx Zone 0 and UL913-certified (Class I / II Division 1) for use in environments with the highest risk of explosion. The Getac EX80 incorporates a sealed anti-static exterior with surface temperature control to limit the possibility of explosion due to electrostatic charges, hot surfaces, heat energy or friction.
"We expect the Getac EX80 to be extremely popular among our customers requiring a rugged device for use in the most hazardous and explosive environments," said Rodger Jenkins, CSO, Group Mobile. "For years, 'pen and paper' have been the only safe option for some of the most extreme work areas in the world."
"The EX80 is the safest product Getac has ever produced and the only device in our line that is Zone 0 certified," explains Scott Shainman, president of Getac. "With the full power of Windows 10 Pro and a host of security features, it provides everything users need to remain productive, across zones."
The Getac EX80 fully rugged tablet is intrinsically safe and certified for use in Zone 0, hazardous and potentially explosive environments. With its 8" display and ergonomic design, it's comfortable to use and hold in one hand; this fully rugged tablet provides a host of multi-layer security features, making it a safe and productive solution for any work environment.
The EX80 is intrinsically safe and its anti-static, sealed design limits the possibility of ignition in Zone 0/Class 1 Division 1 hazardous and explosive environments. The Getac EX80 is specifically designed to be protected against drops, shocks, spills, vibration, salt-fog and more. This Getac fully rugged tablet has a battery life span of over eight hours on a single charge.
The EX80 offers a full HD webcam for crystal-clear video conferencing, and an 8MP rear camera with LED flash for crisp images and video. For accurate location positioning, the EX80 fully rugged tablet includes dual-band 802.11 a/b/g/n Wi-Fi, Bluetooth 4.0 and dedicated GPS. The EX80 comes with a rotatable hand strap that provides a firm grip in portrait and landscape orientations and acts as a kickstand and stylus holder. A host of carrying and mounting accessories are available, including shoulder straps and a office dock.
The EX80 features a large 8" IPS display that utilizes revolutionary LumiBond 2.0 technology to achieve a display that is more readable, and offers better contrast and more crisp colors than any other rugged tablet display. By bonding the display glass with the touch panel and LCD, Getac has created a single pane that is both more durable and readable. Inside the EX80, there is an incredible amount of power and technology. Built with the latest Quad-core Intel® Atom™ x5-8350 1.44GHz processor, the EX80 provides the performance you need to get things done, with no compromise to battery life.
The Getac EX80 can be ordered from Group Mobile. For more information on the fully rugged Getac EX80 intrinsically safe tablet visit: https://groupmobile.com/getac-ex80.html.
About Group Mobile
Group Mobile, a wholly owned subsidiary of Form Holdings, headquartered in Phoenix, AZ, serves customers world-wide. Group Mobile is a rapidly expanding and growing and innovative full end-to-end solution provider of rugged mobile hardware, lifecycle services, system integration, hardware service support, pre-and post-deployment, break-fix, warranty repair, customer support helpdesk and more — all constructed to solve pressing problems and ensure our customers are receiving exceptional value, return on investment and a trusted long-lasting partnership. Group Mobile has mastered the true challenges of mobility through understanding the key elements required for a successful mobile deployment — hardware, connectivity, data and customer back-end network infrastructures. Visit http://www.groupmobile.com for more information.