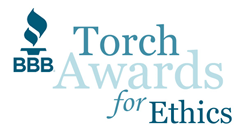 PITTSBURGH (PRWEB) November 20, 2017
Your Better Business Bureau of Western PA is pleased to announce the winners of its 2017 Torch Awards for Ethics. The following businesses were selected by an independent panel of judges to receive this year's prestigious award:

Susan Muschweck Interior Design, LLC: 1-10 employees
R.J. Hedges & Associates: 11-49 employees
Baker's Waterproofing and Foundation Repair: 50-99 employees
One company was also selected to receive runner-up distinction:

Mark Allen Plumbing & Heating: 11-49 employee
"BBB is honored to celebrate and recognize these local companies for their continued, exceptional conduct in the marketplace," says Warren King, president of the Better Business Bureau of Western PA. "Leaders of these organizations proactively demonstrate a high level of personal character and go above and beyond to ensure that their organization's practices meet the highest standards of ethics on a daily basis."
The annual Torch Awards for Ethics program is open to all for-profit companies (BBB accredited and non-accredited) that are located in the 28 county service area of Western Pennsylvania and meet the guidelines. Companies are evaluated against criteria that includes leadership commitment to ethical practices, communication of ethical practices, leadership practices to unify the organization and organizational commitment to performance management practices, ethical human resource practices and the community.
About the 2017 Winners:
Susan Muschweck Interior Design, LLC: Gibsonia, PA
The mission of Susan Muschweck Interior Design, LLC is to make design and remodeling decisions with integrity, by keeping the client's vision in mind to assist in affordably creating spaces they will love. Muschweck's background spans over two decades of award-winning set styling for broadcast, video and print mediums, as well as top design for residential, and commercial client projects. Susan Muschweck Interior Design, LLC employs a cost conscious business model that is tailored to each specific job. A straightforward approach has built a solid reputation with top-notch contractors and suppliers creating an impressive client base.
"As a small, service-oriented business, it's imperative that I provide my clients with intelligent and professional design service 100 percent of the time," says Susan Muschweck, President/Owner/Lead Designer of Susan Muschweck Interior Design, LLC. "By keeping their best interests in mind, I am able to sustain my business. My staff and I apply this same sense of respect in the workplace and are honored to receive this award for a second time."
R.J. Hedges & Associates: New Florence, PA
R.J. Hedges & Associates offers comprehensive healthcare compliance consulting services for independent pharmacies, home health care facilities, medical supply companies, physicians and other small practices throughout the United States. They are able to support client's needs in an ever-changing regulatory environment by providing complete, customized programs ready for implementation. These programs include Policies & Procedures, customized forms, checklists, compliance training, and access to a knowledgeable staff.
"It is a great honor for our healthcare consulting company to be recognized by the Better Business Bureau for the Torch Award for Ethics. I feel truly blessed; our company has an exceptional staff, a healthcare compliance program that supports our clients nationwide with an unmatched customer service support system," says R. Jeffrey Hedges, President & CEO of R.J. Hedges & Associates. "We are grateful to be recognized for having an unwavering standard of moral and ethical conduct and continue to take pride in our high standards of professionalism. I am very proud that my staff's support of our clients and community has been recognized at this level."
Baker's Waterproofing and Foundation Repair: Bentleyville, PA
Baker's Waterproofing has been providing solutions to homeowners since 1975. Their motto, "Strong Reputation, Solid Foundation," precedes itself. Over the years, the company has grown to become one of the largest and most trusted waterproofing and foundation repair companies in the country.
"The Torch Award for Ethics exemplifies who we are and how we do business," says Brian Baker, Owner of Baker's Waterproofing and Foundation Repair. "We recognize this award as a company-wide accomplishment because of a reputation built by all our hard-working employees. Every day we seek improvement to best serve our customers and to not only meet, but exceed their expectations. I am very proud of everyone for doing their part."
About the 2017 Runner-up:
Mark Allen Plumbing & Heating: Bethel Park, PA
Mark Allen Plumbing & Heating is proud to uphold its reputation as "a business you can refer a friend to." The company's dedication to customer satisfaction is its top priority and its employees have worked hard to obtain and maintain this prestigious reputation. Mark Allen Plumbing & Heating has been a contractor in Southwestern, Pennsylvania for over 32 years. The company serves the needs of residential, commercial and establishments in the food service industry, providing impeccable service for heating, air conditioning and plumbing. Mark Allen Plumbing & Heating offers upfront pricing before any work is performed and pricing is based on the job, not the hour, for peace of mind.
"I would like to thank the Better Business Bureau for awarding us the Runner-Up for the Torch Awards for Ethics, says Mark Allen, Owner of Mark Allen Plumbing & Heating. "This prestigious recognition confirms our commitment to continue our mission of providing customers with quality work and to continue with the high standard of integrity signified by this award."
About the Judges of the 2017 BBB Torch Awards for Ethics:
Dr. Faith Bjalobok Ph.D. holds a masters degree in Criminology and a masters degree and Ph.D. in philosophy. Her area of interest is applied ethics. She is an assistant professor of Philosophy at Duquesne University. Faith is also a Fellow at the Oxford Centre for Animal Ethics and the founder of the Fluffyjean Fund for Felines.
Akwasi Opoku-Dakwa is an assistant professor of management at Duquesne University whose research focuses on factors that shape the meaning that employees make of their work, and the effects of these meanings on workplace motivation, attitudes and behaviors (including ethical behavior). He is a member of the Social Issues in Management (SIM) division of the Academy of Management, and a member of the Society of Industrial & Organizational Psychology.
Dr. Jim Weber (Ph. D. in Business, University of Pittsburgh and M.B.A., Saint Louis University) is currently a Professor of Business Ethics and Management and Executive Director of the Institute for Ethics in Business at Duquesne University. Weber is involved in developing ethics training seminars for business and community organizations and forums for discussions of critical ethical issues in business. He has been published in numerous academic journals and is the co-author of 15th edition of Business and Society: Stakeholders, Ethics, Public Policy, published by McGraw-Hill/Irwin, Inc.
This year's winners of the Better Business Bureau of Western PA's Torch Awards for Ethics are now eligible for entry in the BBB International Torch Award for Ethics. Entrants for this award must be designated winners of their local BBB Torch Awards program. Visit bbb.org to nominate a local company for the 2018 Torch Awards for Ethics.