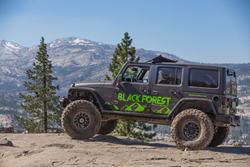 With over eight decades of open air engineering experience designing convertible and sunroof solutions for OEM worldwide, Webasto understands the sense of freedom the Jeep Wrangler provides its owners. – Mark Denny
FENTON, Mich. (PRWEB) November 20, 2017
Webasto Thermo & Comfort North America, a global tier-one automotive and aftermarket equipment manufacturer with more than 80 years of open-air vehicle accessory engineering, unveiled several unique aftermarket products for the Jeep Wrangler. New to SEMA this year, Black Forest Gear by Webasto is designed for passionate Jeep enthusiasts, by passionate Jeep enthusiasts and presented for the first time in the Black Forest section of Webasto's booth at the 2017 SEMA Show in Las Vegas, Nevada.
Designed to meet the needs of a trail-tested segment of the Jeep Wrangler aftermarket, the Black Forest product line-up already includes the ThrowBack one-piece folding fabric roof, the Fridge Freezer 31 mobile refrigerator/freezer, a Cargo Storage System and multi-purpose Cargo Slides. Moreover, Webasto is expanding the color selection on its ThrowBack one-piece folding roof to include black, white and tan, the brand is introducing a Trail Oven Warmer and is offering a convenient new Tire Jack Relocation kit.
"With over eight decades of open air engineering experience designing convertible and sunroof solutions for OEM worldwide, Webasto understands the sense of freedom the Jeep Wrangler provides its owners," Mark Denny, president and CEO of Webasto Thermo & Comfort North America, said. "Our Black Forest aftermarket accessories are designed and manufactured to the same exacting standards that have made us and keep us a tier-one supplier to the global automotive industry."
New ThrowBack Color Selection
The Black Forest ThrowBack one-piece folding roof will be offered in the trail friendly colors of black, white and tan. The addition of white and tan color choices gives users more style latitude and the less heat-absorbent colors offer a cooler alternative for those frequenting more sun-drenched trails.
The Black Forest ThrowBack roof is easier to install than the original Freedom Panels it replaces, requiring only the Jeep Wrangler's factory tool kit. It has a patented, rivetless design and features a unique fabric folding, retention and linkage design. The ThrowBack has been offroad trail tested for more than four years on the Rubicon, in Moab, and on trails throughout the USA.
New Fully integrated Trail Oven Warmer
A warm meal can be hard to come by for those on the move, and stopping to build a fire takes up valuable drive time and daylight. Enter the new Black Forest Trail Oven Warmer. Repurposing the thermal dynamics of the Jeep's manifold, the all aluminum Trail Oven Warmer efficiently reheats previously prepared and precooked foods like burritos, tortillas, sandwiches and virtually anything else after the lid closes on its large heating compartment. The Trail Oven Warmer installs in less than 10 minutes and can be easily removed for cleaning. The product is compatible with all JK models with 3.6L engines.
New Tire Jack Relocation Bracket
Having to unload otherwise carefully stowed cargo to access a tire jack can only add to the frustration of a trailside tire repair. Aftermarket customization can also sometimes make tool access cumbersome. By relocating the tire jack and tools behind seating, the Black Forest Tire Jack Relocation Bracket is a convenient and practical solution to a problem that is bound to happen sooner or later.
The Black Forest Tire Jack Relocation Bracket effortlessly mounts behind the rear bench and maintains a low profile. The kit includes simple instructions and uses durable nylon straps with hook and loop fasteners to safely secure, but maintain easy access to the Jeep's factory scissor jack, crank arms, lug wrench and tire iron tools.
"Black Forest by Webasto directly compliments our vast array of vehicle-enhancing products in both the consumer and commercial arenas," Denny said. "Webasto remains committed to taking vehicle safety, comfort, utility and adventure to the next level."
To access more content about Black Forest by Webasto, please visit:
https://www.blackforestgear.com
About Webasto:
The Webasto Group is a global innovative systems partner to almost all automobile manufacturers and among the top 100 suppliers in this industry sector. In its core business areas the company develops and produces sunroofs, panorama roofs and convertible roofs as well as thermo systems for all drive types. In addition, with battery systems and charging solutions Webasto is building up a product portfolio for electromobility. In 2016 the Webasto Group generated sales of 3.2 billion euros and has more than 12,000 employees at more than 50 locations (with over 30 of these being manufacturing plants). The headquarters of the company, founded in 1901, is located in Stockdorf near Munich (Germany). For more information please visit http://www.webasto-group.com
Media Contact:
Webasto Thermo & Comfort North America, Inc.
Kate Vander Meulen
Marketing Communications Manager
Telephone: 810-593-6062
E-Mail: Kate.VanderMeulen(at)webasto(dot)com