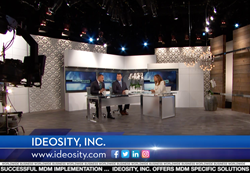 "Data management is so important. It is wonderful to be able to showcase the work that Ideosity is doing in this field."
LOS ANGELES (PRWEB) November 17, 2017
Worldwide Business with kathy ireland® is pleased to announce an exclusive interview with Miko Roller and Rich Dase of Ideosity, one of the most unique master data management consulting firms.
The company executives will discuss the potential data management has for businesses. The interview delves deep into what data management entails, why it is such a lucrative opportunity and how Ideosity helps personalize systems.
Ideosity provides advisory, implementation, and performance services to small, medium and large enterprises to improve their business results through best practices and strategic use of software for product, customer and supplier data.
"Businesses face challenges when storing and managing disparate data across the organization." says Roller. "Having one true source of data and one accurate view becomes impossible. Companies are not able to understand, connect, and use the data to fuel their business. This is the journey – mastering the growing complexities of customers, products, and suppliers' data day-to-day to gain a competitive edge."
Dase provides insight on working with other businesses. "We have an advisory service where we go in and get to know the clients' business and understand where their pain points are in regards to mastering data. We can help them identify what applications might be best suited for their needs and take them through the journey of performance type measurements."
JL Haber, Vice President of Programming for Worldwide Business with kathy ireland®, praised the work being done through Ideosity. "Data management is so important. It involves people who have the time vested for great options. It is wonderful to be able to showcase the work that Ideosity is doing in this field."
For more information about Ideosity, visit ideosity.com and tune in to Bloomberg International at 7:30am GMT and 10:30am D.F. and Fox Business Network as sponsored content on Sunday, November 26, 2017 at 5:00pm EST.
About Worldwide Business with kathy ireland®
Worldwide Business with kathy ireland® is a weekly business television program featuring real world insights from corporate executives from all over the globe which can be viewed on Fox Business Network as part of their sponsored content lineup, as well as internationally to over 50 countries on Bloomberg International.
Visit http://www.tvwwb.com for detailed airing schedules or check local listings.