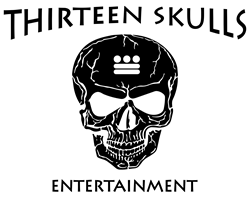 "Thirteen Skulls Entertainment has a fresh approach to marketing and promotion that empowers the artist and expands their reach. When fans see the Thirteen Skulls logo on the back of an album, they will know that it stands for authenticity," said Ron A. Spaulding
Nashville, Tennessee (PRWEB) November 16, 2017
Nashville, Tennessee based Thirteen Skulls Entertainment has officially launched and will provide artists in the AmeriFlow genre with all label services including exclusive Physical and Digital Distribution in partnership with AMPED Distribution. Thirteen Skulls Entertainment expands the current partnership venture between music industry veteran Ron A. Spaulding and Major League Baseball Hall of Famer Frank Thomas.
"I've always said, do what you love and love what you do. Seeing this new genre emerge, blending together different styles, has got me excited to come into to work every day to hear what our artists are working on," says Ron A. Spaulding. "Thirteen Skulls Entertainment has a fresh approach to marketing and promotion that empowers the artist and expands their reach. When fans see the Thirteen Skulls logo on the back of an album, they will know that it stands for authenticity."
Co-founder and President Frank Thomas explains, "I've known and worked with Ron for years with my previous independent label, W2W Records, and we share an unfiltered love of music and passion for creativity. Thirteen Skulls Entertainment is going to allow me to bring all of my abilities to the table as we help our artists grow and push them to the forefront of the AmeriFlow genre."
Thirteen Skulls Entertainment draws its namesake from the Mayan legend of the thirteen crystal skulls scattered across the earth and once collected, the skulls will yield an intense power. The Mayans were said to have sent out twelve priests to place the skulls all over the world and keep them separated until humanity was ready to come together in unison. The legend of the thirteen skulls has grown to include theories that the skulls could possess paranormal abilities, intense healing powers, or that they are lost relics of Atlantis. The legend says that collected together the thirteen skulls have the ability to produce immense power and hold tremendous influence over others.
In keeping in concert with the Mayan legend, Thirteen Skulls Entertainment is focused on the "AmeriFlow" genre, which is a musical hybrid of country, rap, and rock. The label provides a full range of services in a fast-changing music business and offers artists a home with the necessary tools to nurture and incubate creativity without constraints. Focused on putting out AUTHENTIC music, Thirteen Skulls Entertainment's legacy will be defined by creativity and uncompromising commitment to artistry.
For more information please visit ThirteenSkullsEntertainment.com