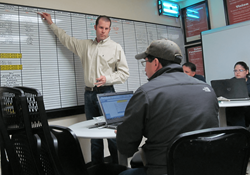 "The transparency of open-book management unleashed a level of creativity that we had never, ever seen before." – Michael Kiolbassa, President, Kiolbassa Provision
SAN ANTONIO (PRWEB) November 20, 2017
The Great Game of Business will host a one day open-book management training at local handcrafted smoked meat company, Kiolbassa Provision Company.
Kiolbassa will open its doors for a behind-the-scenes look at open-book management and how it gave the company the framework and momentum that led to a more engaged workforce and record sales of $55.4 million in 2016.
Three-time San-Antonio Express News winner of Top Workplaces in San Antonio, Kiolbassa credits open-book management with saving the company from extinction during a 2014 industry down-turn that wiped out five of their competitors.
"The change in our employee relationships and how we go about solving problems together has been a tremendous impact of practicing open-book management." – Michael Johnson, Vice President of Organizational Development, Kiolbassa Provision Company
The Great Game of Business, the education wing of Springfield Remanufacturing Corporation, headquartered in Springfield, Missouri, will host The Great Game Experience at Kiolbassa Provision to showcase the company's cultural and financial achievements while educating attendees about open-book management as a practice. The training is built to be interactive and offers a practitioner keynote, an employee question and answer session, and a full open-book management overview.
Michael Kiolbassa, the company's president was named Top CEO in San Antonio by the San Antonio Business Journal in 2016 and has been featured in articles written in Forbes Magazine and leading industry publications such as Meating Place Magazine. Kiolbassa Provision Company also received the United Way Pacesetter Award for raising $42,500 for the charity in 2016 with 100% employee participation.
About The Great Game of Business, Inc.
The Great Game of Business is the largest and most well-known resource for open-book management training and education. Developed as the educational wing of Springfield, MO's SRC Holdings Corporation, where the philosophy of open-book management was developed by President and CEO, Jack Stack, over 30 years ago. The Great Game of Business, Inc. has provided educational services to over 6,000 companies around the world — including Southwest Airlines, Harley-Davidson and Whole Foods Market. For more information, visit greatgame.com. The company also hosts an annual practitioner led conference called The Gathering of Games in Dallas, Texas.
If you would like more information about The Great Game Experience to be hosted in San Antonio, Texas, please contact Cassie Potts at 417-829-8217 or email at cpotts(at)ggob(dot)com.