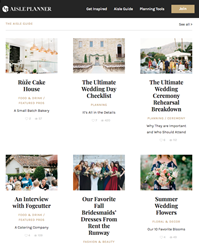 SAN DIEGO (PRWEB) November 16, 2017
Aisle Planner, the leading cloud-based wedding planning and business management platform for wedding professionals, today launches a new editorial and inspiration site for engaged couples, wedding enthusiasts and industry professionals. The new aisleplanner.com will feature wedding advice and tips, real weddings, inspiration and ideas from the experts that make up Aisle Planner's premier professional user base, who are spread throughout more than 50 countries around the world.
Aisle Planner was created by a team of wedding planners - one of the first companies to kick off the "WedTech" movement. Its goal? To modernize a system within an industry that had long been forgotten by today's technological advances. The company's core product, a cloud-based business management and event planning SaaS program, first started as a streamlined suite of wedding planning tools that make designing, collaborating and managing every last event detail easy for wedding professionals, and their client partners. Aisle Planner has since expanded their core offering to include the business management tools needed to operate the inner-workings of a wedding business. The platform offers lead tracking tools, brochures, proposals and contracts with e-signatures, a master contact library with CRM capabilities and a fully integrated payment processing tool to invoice clients and collect payments directly through the user's Aisle Planner account.
An entire wedding business ecosystem in one intelligent platform.
So now - why add publishing? The wedding content world is already incredibly saturated, but the Aisle Planner team is confident they have a unique perspective that will quickly put the company in the running with the legacy publishers in the industry.
"The thing that sets us apart is the thousands of business minded, imaginative, caring business owners that make up our community. We want to showcase the incredible, inspirational weddings that are happening in the world, but highlight the vendor partners as the rockstars that help make it happen," said Christina Farrow, president and co-founder of Aisle Planner. "Having been a wedding planner for 15 years, myself and the rest of our team are acutely aware of the need and benefit of hiring professionals to produce and execute a successful event. We are here to spotlight those professionals, and in turn, help them book more business."
The platform is playing its part as the wedding industry continues to evolve to accommodate the millennial generation. Professionals who utilize Aisle Planner are able to offer a premium wedding planning experience with the most comprehensive planning tools, all online, and accessible 24/7. This level of tech savvy efficiency is what millennials have come to expect from the companies and businesses they support.
Within Aisle Planner's suite of tools, professionals will find a Publishing & Submissions tool to easily submit their portfolio of past work for editorial coverage on the site's real wedding Inspiration page and gallery. The company's editorial team is looking to receive direct submissions as well, for guest authors, featured company profiles, industry news, and more.
ABOUT AISLE PLANNER
Founded in 2014 in sunny San Diego, Aisle Planner started with the idea that there was a better way to plan weddings - that wedding professionals could have all of the wedding planning and business management tools they need, in one reliable place. To date, the platform has helped manage more than $1.8 billion in nearly 50,000 weddings, with users in 54 countries, increasing daily.
As Aisle Planner continues to grow, its expansion solidifies its position as an integral part of every wedding, everywhere, everyday. From complete business management tools, an inspiration resource and publishing platform, to an extensive ecosystem to connect wedding professionals to consumers, Aisle Planner promotes and cultivates the businesses that continue to fuel the wedding industry.
For more information, visit http://www.aisleplanner.com. For media inquiries, please contact Katherine Oyer at Katherine(at)aisleplanner(dot)com.