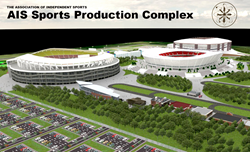 "For The Kids and For The Community"
Griffin, Georgia (PRWEB) November 16, 2017
The Association of Independent Sports (AIS), announced its plans today to introduce a New Professional Football League called the Independent Professional Football League (IPFL). IPFL offers an opportunity for amateur athletes to play in professional level franchises where players will be paid to perform and compete in nationally televised games on 3 TV Shows: The Showdown, the Ultimate Showdown and the Big "O" Bowl.
"We are extremely excited to be launching the Independent Professional Football League (IPFL), the first Sports division under the AIS Indie Pro Sports," said Shedrick Perro, Spokesperson for the AIS. "The AIS makes professional sports more accessible to a wide variety of athletes. We believe the world of amateur sports deserves to have its own platform similar to the NFL, MLB and NBA and as a company we're determined to highlight and empower the amateur sports World through our Organization."
What makes the concept intriguing is its targets to untapped talent base (players who currently have no option to play for pay). IPFL combines the energy of America's fastest-growing youth sports with electrifying athletes to create world-class entertainment designed to recognize and connect athletes and fans on both the national and local levels. The association also introduce "You Can Own Your Own Indie Pro Sports Team", a whole new, inclusive and diverse component that allows progressive minded individuals to Buy, Build and Brand their own Indie Pro Sports Team, including picking their own Original Team Name, Mascot, Logo, Color Scheme, Uniform Design, Coaching Staff and Management.
The IPFL gives Amateur Athletes, including kids, a platform to showcase their Talents at the same level as Professional Athletes by giving them an opportunity to Compete in State of the Art AIS Sports Arenas, Premier Stadiums and Fields at Globally Televised Games, and by giving all IPFL Players a Weekly Salary and a Per Game Bonus. The IPF L categorizes ages as 6-9 are Kids, 10-13 are the Big Kids, 14-17 are Youth, and 18 and up is the Adult league.
"We Focus on providing our Kids, Youth, and Adults with a National Platform to enjoy their exceptional talent while building a financial future that is worthy of their athletic abilities and providing many advantages for their balanced growth and future development," said Shedrick.
The AIS is partnering with Annony Studios Inc., to bring to the World an Exciting New Sports Entertainment Experience, INDIE PRO SPORTS, starting with Indie Pro Football under the Independent Professional Football League.
"We have long recognized the importance and benefits of youth participation in sports and are excited to impact kids and youth through this new technology platform," said Shedrick. "We have a best-in-class management team that has built the most comprehensive platform in the sports participation industry. We believe that with our breadth of national and local multi-platform assets that reach millions of sports fans and participants every day, we can create something truly unique and powerful."
AIS First Stadium in Griffin, Georgia
The Association of Independent Sports has secured 390 acres of land in Spalding County, GA., to develop its first AIS Sports Production Complex. This $500,000,000.00 (Five Hundred Million Dollar US) Development will feature a 151-acre Multi Stadium site for a 30,000 Seat Football Stadium to host the IPFL (Indie Pro Football) and IPSA (Indie Pro Soccer), a 20,000 Seat Basketball Arena to host the IPBA (Indie Pro Basketball) and the IPVC (Indie Pro Volleyball), and a 20,000 seat Baseball Stadium to host the IPBC (Indie Pro Baseball) and the IPT (Indie Pro Tennis). All 3 venues will also host dozens of events, from concerts and cultural festivals to family events. This site will also include: A Mixed-Use Development, Hotels, Retail, Sports Medicine Facility, Restaurants, Practice Fields, Training Facilities, and a 4k Production Base Station, financed entirely through private funding. Construction is slated to begin in 2018, pending zoning approval and a thorough land-use process to ensure the project meets livability standards for noise, traffic, and light.
About The Independent Professional Football League (IPFL)
The IPFL is an Independent Professional Football League that provides a Platform for Amateur Athletes to display their talents at the same level as Professional Athletes. The IPFL consists of 32 Franchise Team Slots within 16 AIS selected States, which are divided into Two Territories (Atlantic & Pacific), which are then divided into Two Zones within each state represented by IPFL Zone A and IPFL Zone B. (AIS planned states are Atlantic: GA, LA, MS, AL, NC, VA, OH, NJ; Pacific: IA, TX, NE, AR, AZ, UT, ID, OR)