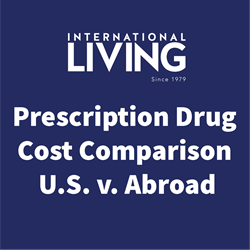 I don't need to worry about taking on a second job just to pay for my medications
Baltimore, MD. (PRWEB) November 16, 2017
"I don't need to worry about taking on a second job just to pay for my medications," says Wendy DeChambeau, IL Ecuador Highlands Correspondent. "Taking care of my health in Ecuador is much more affordable than in the U.S. Most prescriptions here cost between one-third or half of what I'd pay back in the U.S."
Healthcare is one of the most significant and hard-to-plan-for costs in retirement. However, it becomes a much more manageable expense when living in a good-value locale outside the United States, according to a new report from the editors of International Living. That's because, the report finds, healthcare costs abroad—particularly costs for pharmaceuticals—typically come to a small fraction of what retirees pay in the States.
By retiring overseas, expats are shrinking their medication bills dramatically, leaving funds leftover for spending as they wish.
Ed Cusack and his wife Jackie moved to Costa Rica when the winters in Indiana seemed to be getting longer and causing them more discomfort. He says, "Our retirement to the Central Valley town of Sarchi has been the wisest decision we ever made. On the couple of occasions when we wanted to consult a doctor, we found an English-speaking doctor locally who provided a thorough examination and laboratory blood work for about $50. Monthly blood pressure medicine costs about $30 a month. Many drugs that would be prescription-only in the U.S. are over-the-counter here. Most pharmacies also have a medical practitioner who will check you out at no charge."
Echoing what Ed found in Costa Rica, the report reveals that not only are many pharmaceutical costs lower outside the United States, but many medications are available over the counter—which saves patients the cost of a doctor's visit. In addition, expats living abroad report a high level of satisfaction with the level of service delivered by healthcare providers.
Aileen and Bob Young from Minnesota have been in their beachside retirement haven of Hua-Hin, Thailand since 2013. Bob says, "We found a place that both of us like and that fits with our budget." They live happily in a condo near the beach on Bob's Social Security income of $1,992 a month.
A massive source of savings for them is healthcare costs. "The cost of medicines is less in pharmacies than at the hospitals. If you feel unwell, you can get basic medical advice from a pharmacist and he or she will tell you what kind of drugs to take," says Bob. "And the quality of healthcare service here is better and less expensive than in the States. With doctor's visits costing $15 on average, you can discuss with doctors and nurses as long as you want and get a prescription without additional fees."
Low-cost healthcare benefits are built in for retirees in some countries, Panama among them, where the Pensionado Programme provides specific healthcare-related benefits and discounts.
"Many people don't realize that these discounts are by law given to all who qualify by age—including expats as well as Panamanians," says Nanette Witmer, IL's Chiriqui Correspondent. "When women reach the age of 55 and men 60, they can automatically start using the benefits that the Pensionado provides. The law covers anyone who has permanent residence in Panama, no matter what visa they have residence under. One of the medical benefits is a 10% discount on prescription medications in pharmacies and some over-the-counter medications like aspirin."
INFOGRAHIC: International Living's full report can be found here: Prescription Drug Cost Comparison, the U.S. v Abroad
Editor's Note: Members of the media have permission to republish the article linked above once credit is given to InternationalLiving.com.
Further information, as well as interviews with expert authors for radio, TV or print, is available on request. Photos are also available.
For information about InternationalLiving.com content republishing, source material or to book an interview with one of our experts, contact PR Managing Editor, Marita Kelly, +001 667 312 3532, mkelly@internationalliving.com
Twitter: @inliving
Facebook: https://www.facebook.com/International.Living/
About International Living
For 37 years, InternationalLiving.com has been the leading authority for anyone looking for global retirement or relocation opportunities. Through its monthly magazine and related e-letters, extensive website, podcasts, online bookstore, and events held around the world, InternationalLiving.com provides information and services to help its readers live better, travel farther, have more fun, save more money, and find better business opportunities when they expand their world beyond their own shores. InternationalLiving.com has more than 200 correspondents traveling the globe, investigating the best opportunities for travel, retirement, real estate, and investment.