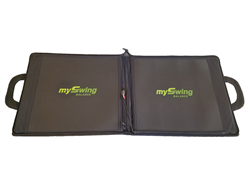 Golf instructors need an affordable and rugged tool to measure and train ground interface movement in the golf swing, and this is it.
SCOTTSDALE, Ariz. (PRWEB) November 17, 2017
MySwing Golf, the creators of My Swing— the most comprehensive portable motion capture tool for golf—announce the launch of their newest product, MySwing Balance.
The portable golf pressure plate delivers an affordable and durable solution for golf training that can also be used in a variety of applications for the healthcare field and other sports related industries.
Since launching in 2015, MySwing Golf has helped professional golf coaches across the country to improve the technique of players looking to add an extra advantage to their game with the use of motion capture sensors designed to track their motion which can be recorded and then analyzed to target problems and track improvements.
MySwing Balance is a rugged, military-grade tough balance plate with an easy-to-carry design and wireless WiFi connection for portability. With MySwing Balance, instructors get all the information they need, including live and recorded center of pressure, heel-toe balance, pressure velocity, vertical load and stance width. The unique, intuitive software interface is designed with instructors in mind.
MySwing Balance also introduces a real-time visual and audio biofeedback training mode to help players get better faster.
"We are committed to developing quality, cutting-edge products that improve skill and performance," says Peter Gauthier, President of MySwing Golf. "We've had great input from our testers who have put our prototypes through the mill. Golf instructors need an affordable and rugged tool to measure and train ground interface movement in the golf swing, and this is it. MySwing Balance can also be of great benefit to the medical industry and other sports as well."
MySwing Balance's pressure measurement system makes it a versatile tool that is also suited for use in physical therapy, chiropractic care and sports medicine.
MySwing Balance is not only portable and durable, it's affordable at only $3,500. The price includes superior durability, speedy ordering and delivery, easy handling, and dedicated support.
Unique features of MySwing Balance include: folding, easy-to-carry portable design, indoor and outdoor capability, wireless WiFi connection and a high friction surface that is not affected by wet grass. MySwing Balance comes with perceptive, easy-to-use software for both iPad and Windows.
The MySwing Balance is now ready for pre-orders and December delivery at the MySwing website, http://www.myswing.com/contact.
About MySwing Golf, Inc.
MySwing Golf, Inc. is the leader in wireless, full-body motion capture technology. We're committed to using cutting-edge technology to create innovative and practical tools for sports professionals.