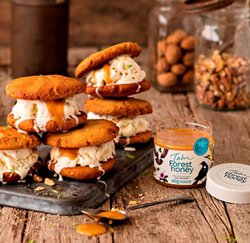 Anna, Suzan and I are all advocates for empowering women in business and we felt strongly that this was an event we wanted to support
NEW YORK (PRWEB) November 16, 2017
Tahi New Zealand Forest Honey and Nil Beeswax Reuseable Food Wraps, both imported and distributed in the USA by The Kiwi Importer, are included in the gift bags for the delegates, partners and guest speakers attending the UN Women's Entrepreneurship Day (WED) Summit in New York this week.
Anna Bordignon, Founder of the Social Enterprise Munch Cooking and creator of the Nil Beeswax Food Wrap, is an advocate for healthy family meals and protecting the environment. Nil Food Wraps are an organic and reuseable plastic wrap substitute that are handmade by New Zealand moms in need of flexible employment so they can both care for and provide for their families. The food wraps are called 'nil' due to the no waste manufacturing process. The wraps keep food fresher than plastic cling wrap and are unlike plastic wrap, are biodegradable.
Suzan Craig, CEO of Tahi Honey, is dedicated to conservation and the restoration of eco-systems. Tahi Estate's remote location and the company's relentless determination to protect the environment, produces honey that is free from GMOs and GE. From Tahi hives to the consumers hands, there is no overheating, no pasteurizing and no artificial anything. The beautiful native New Zealand bird label is in celebration of Tahi's environmental achievements as profits from the honey circle back into conservation and community projects.
Sarah Ayala, owner of The Kiwi Importer, based in Houston, TX, provides natural and unique products to socially conscious consumers in the USA. "Anna, Suzan and I are all advocates for empowering women in business and we felt strongly that this was an event we wanted to support," said Dr Ayala.
Women's Entrepreneurship Day is more than a single day, it's a movement to celebrate and support women in business globally. WED hopes to fund 100,000 women entrepreneurs with microloans so that they may thrive in business. Ninety percent of the money earned by these women is used to educate their children and to provide for their families, lifting entire communities in the process.
WED is officially proclaimed as November 19th worldwide, and is celebrated in 144 countries and 110 academic institutions reaching 1.4 million people. The women leaders of Tahi Honey, Munch Cooking and The Kiwi Importer are honored to part of the WED movement.