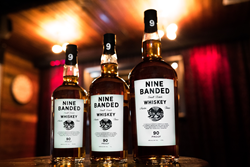 "We are pleased to have seen great growth in the market since launch," said CEO Gary Crowell. "Having expanded throughout the state over the past 20 months, we're currently a top emerging Texas spirits brand and are excited about this next round of funding and what's on the horizon for Nine Banded."
AUSTIN, Texas (PRWEB) November 17, 2017
Austin Based Nine Banded Whiskey Launches Fundraising Round
Series B kicks-off in lock-step with company's announcement of Hill Country tasting room, new sales team and aggressive out-of-state expansion
Founded in 2015 by Austin Spirits, Inc., Nine Banded Whiskey has opened a Series B fundraising round seeking four million in investments. The round will close on December 15th.
The company will also be launching new state markets in Q1 2018 (with aggressive regional expansion planned through 2021) as well as opening a Hill Country Tasting room. The tasting room will open this winter near other thriving beverage companies including Jester King Brewery and Argus Cidery. The space will serve as the new HQ for Austin Spirits as well as the bottling facility for Nine Banded.
"Our company is all about celebrating the creative community and collaborative spirit of Austin, and drawing on the city's intersecting identity of future innovation and historic grit," said Nine Banded CEO, Gary Crowell. He continued, "We are so pleased to have seen great growth in the market since launch. Having expanded throughout the state of Texas over the past 20 months, we are currently a top emerging Texas spirits brand available in 335 on-premise establishments, as well as 770 liquor stores statewide. We are excited about this next round of funding and all that's on horizon for Nine Banded."
Joining CEO Gary Crowell (who helped found Deep Eddy Vodka) and CMO Ed Cohen (whose beverage background extends to Diageo, LVMH Moët Hennessy, Louis Vuitton, and Pernod Ricard), the day-to-day team operations now includes some new players with similarly extensive beverage experience.
As Director of Sales for Nine Banded, Amir Arad brings experience in the liquor startup space as well as liquor-specific sales data analysis and implementation. Prior to joining the team Amir was a founding member of and VP of Sales for Herman Marshall Whiskey, and most recently VP of Sales and Operations at yDrink, the only platform built to gather beverage sales data on the Texas alcohol industry. He is joined by Aaron Beavers, Nine Banded's new South Texas Sales Manager. Beavers was previously Texas manager for VEEV Spirits and most recently, a luxury spirits specialist with Beam Suntory Spirits, the creators of Jim Beam.
###
About Nine Banded Whiskey
Using limestone-filtered water pulled from an untapped spring in the Texas Hill Country, Nine Banded is blended and bottled in Austin. Blending the fine barrel-aged whiskeys with the pure water source directly impacts the flavor profile and aroma, resulting in an approachable, well-rounded whiskey with a subtle bite and laid-back finish.
Nine Banded, named for the nine-banded armadillo, a nocturnal native Texan, also pays homage to the iconic Armadillo World Headquarters – a vital center of musical and artistic creativity in Texas music history.