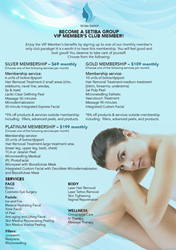 Let's revive and maintain your youthful, glowing skin today!
WESTLAKE VILLAGE, Calif. (PRWEB) November 20, 2017
Those who are looking for a skin care clinic in Westlake Village California will welcome this good news for sure. The pioneer in skin care services, The Setiba Group is opening a new skin care clinic in Westlake Village. This skin care clinic is made up of a team of veterans, doctors, expert aestheticians and dermatologists, registered nurses, and experienced medical staff – all duly certified to provide the best and the latest of skin care treatments.
The Setiba Group Grand Opening
The new skin care Clinic in Westlake Village California clinic has recently opened its doors last October 7th, and as part of their opening gala, they gave away $100 worth of gift cards to the guests who have attended the said event. It is also during this gathering when they announced their latest products and services, including their newly acquired high-end technology when it comes to skin care treatments and aesthetic procedures.
Their opening promo is still on-going for those who are still interested to avail. Although the free gift cards have already been distributed, the Setiba Group is still offering free consultation. All you have to do is to simply visit their website https://setibagroup.com to schedule an appointment.
The Setiba Group Treatments and Services
The Setiba Group's treatments and services are pretty wide range. In fact, they can be divided into multiple categories. First are the body treatments. Some of these are their laser tattoo removal, which provides a multi-level removal of even the most stubborn tattoos and pigments; stretch marks removal, to repair those annoying lines and reduce their visibility; and vaginal revitalization, done to improve the appearance of the vagina's labias, and of course, heighten sexual pleasure.
The second category of their treatments and services are their face treatments, which is also one of their specialties. This includes some surgical procedures like their cosmetic eye surgery, and non-surgical options, like facials and peels, dermal fillers (their line of injectables will be discussed later on), microdermabrasion, microneedling, and neck lift.
The third category involves their line of skin treatments. Acne and scar removal treatments are available for those who need a fresh restart from the scarring and pigmentation caused by acne. IPL laser treatment and laser skin resurfacing is also being offered, especially for those who direly need to restart their skin's collagen production. For those with problematic moles, either for aesthetic or health reasons, can get them removed through the Setiba Group's mole removal procedure. The same goes for spider veins and varicose with their vein removalprocedures. And finally, the clinic is also offering skin tightening procedures for those who just want to get those loose and sagging skin tight and firm again.
The fourth category is impressive, and goes beyond the usual treatment offers of their competitors which is preventive medicine and hormone replacement. Treatments under this category include strategic nutrition, IV nutrient infusions and vitamin injectables, and bio identical hormone replacement.
Other services that we have not yet mentioned under the major categories are eyelash extensions, microblading (also known as eyebrow embroidery), and laser hair removal.
Speaking of lasers, they are proud to offer the latest in this technology, with their Spectrum Laser and Phoenix Laser.
As what we have mentioned above, they also offer a wide range of injectables and fillers. These are: Botox, Juvederm, Kybella Treatment, Radiesse Injection, Restylane, and Voluma.
Finally, for those who are wondering, the Setiba Group is not just a dermatology clinic, but also a medical spa in Westlake Village California. In line with this, they are also offering pampering procedures like different massages and chiropractic care.
Aside from those already mentioned here, they are offering other treatments and procedures, in line with their vision to be a one-stop clinic for all your aesthetic and wellness needs. Feel free to visit their website for a complete list of all the procedures they are currently offering.
They are also inviting everyone to follow them on their social media accounts to always be updated on their latest updates, promos, and discounts.
Today, though, the Setiba Group will be putting a spotlight on two of their flagship services: their laser hair removal procedure and Botox treatment.
Laser Hair Removal in Westlake Village California
Laser hair removal treatment is a cosmetic procedure performed in order to remove unwanted hair from the skin surface. It is a procedure only performed by trained plastic surgeons and board-certified aesthetic specialists. This is vital to the procedure since leaving this done by untrained hands could lead to unwanted scars and burns. It is also important to note that due to the advancements of this technology, this procedure is not being taught yet in medical schools, hence, even doctors must be fully trained before being certified to perform this procedure.
The Setiba Group has a team of experienced doctors and specialists all duly certified to perform laser hair removal treatments.
What is amazing about laser hair removal is the fact that it can potentially permanently reduce the amount of hair growing in a certain area (like your chin or underarms), with the most minimal risk if you compare it to other hair removal procedures currently being offered in the market.
Laser hair removal involves the use of special lasers that emit just enough heat energy to the target area in order to damage the hair follicles there, so that they would find it hard to grow hair in the future. There are even times that the hair does not regrow anymore after the procedure!
Different types of lasers and wavelengths are used for each procedure. This depends on the skin area and the skin type of each patient, hence, the Setiba Group employs multiple lasers in order to get the desired results for each procedure. This is the reason why it is required to go through an initial consultation first, especially if you want to determine the laser hair removal cost, since every patient might have different laser requirements.
The next treatment that the skin care clinic in Westlake Village California, the Setiba Group, would like to highlight in this article is their Botox treatment.
Botox Injections in Westlake Village California
The Botox injection has been a popular choice when it comes to injectable treatments for the past fifteen years. The main reason for this is its unparalleled efficiency when it comes to remedying wrinkles, such as fine lines on the forehead and crow's feet in the skin surrounding the eyes.
The magic behind this injectable is all thanks to the main component of the Botox injection which is the botulinum toxin. While it is true that this is the strongest toxin known to man, it is also one of the most effective injectable treatments today. In fact, Botox is not only used for wrinkles. Further research has proved Botox effective as cure to other ailments such as excessive sweating, chronic migraine, and more.
It is especially effective for wrinkle treatment though. It works by temporarily paralyzing the muscles that cause the wrinkles. This would cause the said muscles to relax, therefore eliminating all the wrinkles caused by its tension.
The main disadvantage that patients usually report after the Botox treatment though is the "unnatural" look that the paralyzed muscles give off, making it obvious that the patient did receive cosmetic treatment. This is the reason why the Botox injection treatment is only given by duly certified and experienced doctors and injectable specialists in the Setiba Group. This ensures that the injection is only done in strategic areas in controlled amounts in order to achieve natural looking results.
Another concern that is being reported by patients who has received the treatment from other clinics is the pain of the injection. In Setiba Group, various pain reducing procedures are done before the treatment in order to make sure the most comfortable and painless procedure possible.
Post treatment care guidelines are also provided to ensure less down time and minimal inflammation.
But wrinkles and fine lines are not the only issues that Botox can remedy. As what we have mentioned above, there are still other Botox injection benefits. One such benefit is the use of Botox as treatment for migraines. It was discovered way back in 1992 that the patients who enjoyed the anti-wrinkle procedure also reported of less headaches after it was done. Just a few years later, and after extensive research, Botox has already been approved as a treatment for chronic migraines.
It was pretty much also the same way that Botox as treatment for excessive sweating was discovered. Patients reported less sweating after receiving Botox injections for their wrinkles. Also a few years later after the initial discovery, the Botox injection is now approved as treatment for excessive sweating.
Years after the first use of the Botox injection, it is now known that it may also be used as treatment for an overactive bladder, depression, neck spasms, even for abnormal heart beats. Botox truly is impressive as treatment.
However, as with all treatments, it is of vital importance to get the treatment done by a board certified doctor or specialist. This would not only ensure that you would get the best result, but would also make sure that the treatment is safe and the right option for you.
This is the reason why in the Setiba Group, it is a requirement for the patient to undergo an initial consultation first. It is during this time that the doctor will interview the patient regarding their medical history. Feel free to share with your doctor your concerns about the procedure and make sure to not leave out any medicine that you might be taking before the procedure. This is because blood-thinning medication makes the patient more prone to bruising after the procedure. The Botox injection treatment is also not recommended for pregnant women because it may cause some issues with the placenta. The botox injection cost will also be discussed during this appointment.
Why The Setiba Aesthetics Group?
The Setiba Aesthetics Group is a good option when it comes to choosing a skin care clinic in Westlake Village California. The clinic in Westlake might be recently opened but the Setiba Group is a team of veterans backed up by years of experience already. Not only that, the range of treatments and services that the clinic is offering makes sure to cover all the aesthetic needs of a patient. It just not takes care of your cosmetic needs, but focuses on ones holistic wellness as well.
Another thing that sets the Setiba Aesthetics Group apart from other is the fact that they emphasize on patient and doctor communication. This is the secret behind the clinic's success. They acknowledge that each patient has a specific need. Therefore, they construct a specialized treatment plan for each patient in order to achieve his or her personal needs and goals. This is also the reason why they are currently offering a free initial consultation – in order to get that relationship a head start.
There are other discounts and promos available, all listed in the website, so it is highly recommended for you to check that out if you want to avail of their special offers, offers that you will not find in other skin care clinics in Westlake Village California.
Aside from booking an appointment through their website online, one may also walk in on their clinic during office hours. This is from 10:00 am to 6:00 pm, from Mondays to Saturdays. The clinic is also open during Sundays, though only by appointment.
----------------------------------------------------------------------------------------------------------------------------------------------------------------
The Setiba Aesthetics Group
The Setiba Aesthetics Group is the leading provider of skincare treatments and aesthetic surgical procedures. They are a team of duly certified and dedicated doctors and beauty experts that provide the most efficient and world-renowned services to everyone who wants to enjoy natural and youthful beauty. Latest wellness treatments like chiropractic treatment and IV therapy are also among their roster of services. To guarantee that every treatment is tailor-fit to each and every one of their clients, they also offer a free consultation by appointment through their website. Below is their complete contact information:
Contact
Company: Setiba Aesthetics Group
Address: 101 North Westlake Blvd Westlake Village, CA 91362
Phone: (805) 703-0000
Email: inquiry@setibagroup.com
Website: https://setibagroup.com
----------------------------------------------------------------------------------------------------------------------------------------------------------------