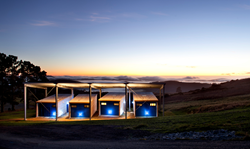 SAN FRANCISCO, and NEW YORK (PRWEB) November 18, 2017
CCS Architecture has been designing buildings and interiors for twenty five years. The diverse range of work extends to over 100 restaurants, more than 50 residences, and numerous retail, commercial and cultural projects. With design excellence as the standard, CCS has won multiple awards, been published widely and worked all over the world.
For a quarter century, the firm has maximized the impact of designs and scales ideas to each individual project. The work is firmly based in the modernist idiom, where innovation and creativity are balanced by practicality and experience.
CCS operates offices in San Francisco and New York. Partners include Cass Calder Smith - founding principal; Barbara Vickroy - Director of Interior Design; Melissa Werner - Director of Operations; and Taylor Lawson - Associate Principal. The principals direct a staff of 30 between the two offices.
Thank you to our invaluable clients.
About Cass Calder Smith:
Cass Calder Smith is the founding principal of CCS Architecture. Smith earned his Bachelor and Master of Architecture from the University of California, Berkeley. He served on the San Francisco Arts Commission for eight years and is currently a trustee for the Djerassi Residents Artists Program, for which he designed their award-winning Middlebrook Studios. A native of New York City, he has lived in California since 1972 and now splits his time between both coasts. He is a collector of photography, patron to MOMA New York, SFMOMA, and the Whitney Museum, and teaches design at UC Berkeley.