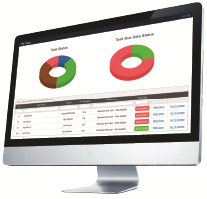 The new Visualizations in ResilienceONE enable our users to view recovery status and respond to new developments faster than ever before...
PHILADELPHIA (PRWEB) November 17, 2017
Strategic BCP, Inc.—innovators of the industry's leading ResilienceONE® business continuity management (BCM) software, today announced the availability of Version 8.1, which offers enhanced visualizations for continuity and recovery professionals.
Enhanced visualizations include:

Manage programs at a glance. The new, interactive dashboards graphically depict plans and provide executive reports.
Visualize Upstream/Downstream Impacts. Hierarchy maps are easily viewed and managed.
Measure RTO and RTC Gaps. ResilienceONE's new IT Dashboard displays Recovery Time Objectives (RTO) vs. Recovery Time Capability (RTC) gaps so managers can focus on vulnerabilities in their BCM/DR programs.
Custom dashboards. Users can design, arrange, and summarize data into a variety of chart types, save, and share them with executives.
Version 8.1 also includes enhancements to many popular ResilienceONE features, including an updated knowledgebase of documentation and videos.
"When an incident arises, organizations need to be able to respond quickly. The new Visualizations in ResilienceONE enable our users to view recovery status and respond to new developments faster than ever before," said Frank Perlmutter (CBCP, MBCI), President and Founder of Strategic BCP. "We strive to continually grow and evolve our products, and our product-based SaaS model provides the latest advances and best practices to all of our customers with every new release."
Version 8.1 and the full capabilities of ResilienceONE are accessible for evaluation by requesting a personal demonstration with an enterprise consultant.
About Strategic BCP ResilienceONE
Strategic BCP ResilienceONE®, a global leader in business continuity risk management software, helps customers elevate the productivity of their programs during disaster and business interruption situations. ResilienceONE provides extensive automation of manual work, powerful risk analytics, visualization tools and dashboards, and a real-time enterprise command center that is the cornerstone of limiting the loss of billions of dollars. In a single cloud-based system, ResilienceONE manages continuity, operational risk, vendor risk, and IT risk. The system can capture business process, impact, and value concurrently and generate a full prioritization of the enterprise importance of every business function, asset, vendor, person, or any supporting resource to an organization. Over 500,000 cross-industry users at top companies worldwide. Strategic BCP's professional services organization helps navigate obstacles within BC to DR and strategic IT planning. For more information, visit http://www.strategicbcp.com, read the company blog, and follow us on Twitter, LinkedIn, and Facebook.