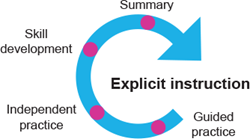 Based on the data collected from this action research study, students who were given supplemental reading support using Reading Eggs showed more overall growth than the students who did not receive support (Lowery, 2017, p. 45).
(PRWEB) November 18, 2017
An independent study carried out over a six-week testing period has shown remarkable results in improving the reading scores of 2nd grade students.
The study was conducted by Latisha D. Lowery from the University of South Carolina and measured the effects of the technology-based reading intervention program Reading Eggs in the most recent academic year.
The results of the study showed that 93% of students who used Reading Eggs increased their reading proficiency score by at least one whole level.
The study looked at two classrooms of 2nd graders at Fairfield Magnet School for Math and Science (FMSMS) in South Carolina. One group of students used Reading Eggs as a supplement to their normal teacher-delivered intervention for a minimum of 60 minutes per week for a six-week period.
The other group received their normal teacher-delivered intervention without the use of Reading Eggs.
At the beginning of the academic year, 32% of the students involved in the study were reading below grade level. After using Reading Eggs for just six weeks, there was a 13% increase in the number of students reading on grade level and a 6% increase in the number of students reading above grade level.
In contrast, the percentage of students in each reading category who did not use Reading Eggs saw no improvements.
Additionally, the percentage of below-grade students in the Reading Eggs treatment group decreased by 19% over the course of the study, while the percentage of children below grade in the control group remained the same.
The remarkable results prove Reading Eggs to be highly effective in improving reading proficiency scores in elementary students. As a result, the program will be implemented as a supplementary resource into the kindergarten and first grade classes at FMSMS.
Reading Eggs is designed by a team of elementary educators with over 30 years of experience publishing quality educational resources.
The program is targeted to children aged two to 13 and focuses on building essential literacy skills in a fun, engaging and highly motivating way. The one-on-one lessons cover key skills which expressly address the five pillars of reading—phonemic awareness, phonics, fluency, vocabulary and comprehension.
At the start of Reading Eggs, students complete a placement test which matches them to the appropriate starting level. The program progresses at each child's individual pace, with a structured sequence of interactive lessons and activities.
Parents and teachers can access detailed reports to track students' progress as well as supplementary worksheets and lesson plans made available in the program. There's also a comprehensive online library with over 2500 e-books sorted by reading age and Lexile level, which include a comprehension quiz at the end of each book.
The Reading Eggs app can be downloaded from the iTunes App Store. It can also be used through a browser on a computer or laptop. Users can sign up for a free trial online at http://www.readingeggs.com/signup.
Recommended citation
Lowery, L. D.(2017). Effects of Reading Eggs on Reading Proficiency Levels. (Doctoral dissertation). Retrieved from http://scholarcommons.sc.edu/etd/4151