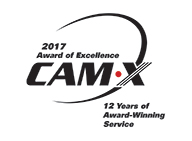 The responsibility and effort required to participate, and succeed, in the Award of Excellence program is a direct reflection of the commitment to quality and service excellence demonstrated by Direct Line TeleResponse
VANCOUVER, B.C. (PRWEB) November 17, 2017
Direct Line Tele Response Earns CAM-X Award of Excellence
Direct Line Tele Response of Berkeley, CA has been honored with the exclusive 2017 Award of Excellence for the 12th consecutive year. This exclusive Award is presented annually by the Canadian Call Management Association (CAM-X), the industry's Trade Association for providers of call center services including telephone answering and message delivery. Direct Line Tele Response was presented with the Award recently at the CAM-X 53rd Annual Convention and Trade Show held at the Marriott Pinnacle in Vancouver, BC.
"It's an incredible honor to have earned this exclusive award for our 12th consecutive year of call excellence. Based on the internal quality assurance protocols we implement, coupled with the excellent feedback received from our client satisfaction surveys, we're certain we provide excellence in caller experience. Furthermore, ranking in the industry's top tier of call centers certainly validates this for us." says Ken Goldenberg, President and Owner of Direct Line Tele Response.
Independent judges are contracted by CAM-X to evaluate message services over a six month period. The scoring criteria includes:

Response Time
Courteousness of Rep
Accuracy of Call
Knowledge of Account
Overall Impression of Call
"Huge congratulations to Direct Line Tele Response for winning this prestigious award. The responsibility and effort required to participate, and succeed, in the Award of Excellence program is a direct reflection of the commitment to quality and service excellence demonstrated by Direct Line TeleResponse'," says CAM-X President Dana Lloyd.
Now a twelve-time winner Direct Line Tele Response earned the Diamond Plus Award. CAM-X extends its congratulations to the entire staff of Direct Line Tele Response on their proven quality service to their customers.
About CAM-X
CAM-X is a Canadian based trade Association for the Call Management industry which includes call centers, telephone answering services, telemarketing services and other communication services.  Their goal is to contribute to their members' profitability by fostering a willingness to exchange ideas, experiences and solutions while promoting the general welfare and ethical standards of our industry. Please visit http://www.camx.ca for more information.
About Direct Line Tele Response
Direct Line Tele Response was founded in 1979 and is known throughout the United States and Canada as being one of the leading pioneers within the Call Center industry.  Headquartered in the San Francisco Bay Area, our team of 100% U.S. based Call Agents are ready 24/7/365 to partner with you regardless of business type, profession or industry.  Our professionally certified Call Agents don't just answer phones or take messages; we accurately gather information and act as a Direct Line of communication between you and your callers.
Media contact: Beth Devine (888)365-2424 or bethd(at)directlineanswers(dot)com