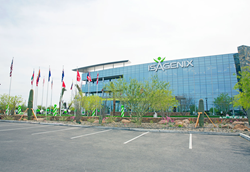 While we are proud of our amazing growth and the economic impact we provide for Arizona and the U.S., there is nothing more important to us than offering people the opportunity to take control of their health and their futures. - Travis Ogden
GILBERT, Ariz. (PRWEB) November 16, 2017
Isagenix International, a global health and wellness company providing nutrition and lifestyle solutions, was recognized today as a finalist for the Social Impact Award at the Spirit of Enterprise Awards, Arizona's premier celebration of entrepreneurship. The awards, presented by the W.P. Carey School of Business at Arizona State University, honor businesses that positively impact the state's economy while exhibiting ethics, energy, and excellence in entrepreneurship.
Isagenix was one of three finalists in the social impact category, which recognizes businesses that demonstrate a significant impact on Arizona communities as a core part of their business operations.
"Isagenix is honored to be a finalist for the Social Impact Award. This is a particularly gratifying recognition in light of our core value of contribution and our vision to impact world health and relieve people from physical and financial pain," said Isagenix President and Chief Operating Officer Travis Ogden. "While we are proud of our amazing growth and the economic impact we provide for Arizona and the U.S., there is nothing more important to us than offering people the opportunity to take control of their health and their futures."
The company anticipates global revenue in 2017 to reach nearly $1 billion. In 2016, Isagenix had a $326.1 million gross domestic product (GDP) impact on the Arizona economy, supporting 3,364 jobs, according to an economic impact report from Arizona State University's Seidman Research Institute, using data from Isagenix. Isagenix generated sales in Arizona of $38.4 million in 2016.
The report also highlights the company's impact on health in Arizona. Last year 1,717 people completed the IsaBody Challenge®, a 16-week body-transformation challenge, and collectively lost 17,871 pounds. IsaBody™ participants submit "before" and "after" photos, use Isagenix products to support their transformation goals, and submit personal essays describing their journeys to greater health and fitness.
Isagenix also makes a difference in Arizona by contributing to several organizations in the state including the Better Business Bureau, Girl Scouts – Arizona Cactus-Pine Council, Make-A-Wish®, and the Southwest Autism Research & Resource Center. Isagenix is especially proud of its work with Make-A-Wish. Since 2012, the company and its customers and employees have donated over $7.3 million and helped grant 800 wishes to children with serious illnesses.
To learn more about Isagenix, visit our newsroom at Isagenix.com, like us on Facebook at Facebook.com/Isagenix, and follow us on Twitter and Instagram at @Isagenix.
About Isagenix International
Established in 2002, Isagenix provides systems for weight loss, energy, performance, healthy aging, and wealth creation. With more than 550,000 customers worldwide and more than 100 life-changing products, packs, and systems globally, the company is committed to producing Solutions to Transform Lives™. In 2017, Isagenix surpassed $5 billion in cumulative global sales through an independent network of associates in the U.S., Canada, Puerto Rico, Hong Kong, Australia, New Zealand, Taiwan, Mexico, Singapore, Malaysia, Colombia, Indonesia, the United Kingdom, Ireland, and the Netherlands. Isagenix is a privately owned company with headquarters in Gilbert, Arizona. For more information, visit Isagenix.com.