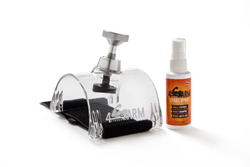 "4Arm Strong is the first thing my riders use before they throw their leg over their bike." - Aldon Baker, renowned trainer of the world's elite motocross riders.
MISSION VIEJO, Calif. (PRWEB) November 17, 2017
Many athletes across a range of sports suffer from issues in their forearms as a result of overuse. Chief among these is chronic exertional compartment syndrome (more commonly known as "arm pump"), a problem that affects grip strength and performance. Additionally, these same athletes can develop repetitive-motion injuries such as elbow tendonitis, forearm flexor strains and carpal tunnel syndrome. Even those with access to consistent, top-of-the-line treatment modalities can struggle with recovery.
Finally, however, there is a product on the market specifically targeted to relieve and even prevent these painful conditions: the patent-pending 4Arm Strong. This simple yet effective aided stretching device—developed by Active Release Techniques®–certified provider Lee Ramage—uses targeted tension to create a much more effective stretch of the muscles and fascia (connective tissue) in and surrounding the forearm. This allows for more blood to be accepted into the forearm compartment, which translates into less constriction, relieving tightness and numbness and reducing arm pump. Use of the 4Arm Strong also creates an effective lengthening of the muscles below the elbow, which is key to relieving pain from injuries like tennis and golfer's elbow and allows for quicker healing.
Once the 4Arm Strong is secured to the forearm using a cuff and strap, an adjustable knob sets the appropriate level of resistance and tension and users can continue their traditional therapeutic mobility and flexibility exercises with a boost in their effectiveness.
"Reducing arm pump speaks for itself; increasing grip strength without resistance training is monumental!" explains Aldon Baker, renowned trainer of the world's elite motocross riders. "4Arm Strong is the first thing my riders use before they throw their leg over their bike."
The result? Users can ride, climb, swing and throw for longer periods of time with lessened arm pump and reduced overall tightness and pain—all while rapidly improving grip strength. Testimonials from professional athletes include professional baseball pitcher Dustin Molleken; former UFC and Bellator fighter Joey Beltran; professional PGA player Scott McCarro; and multi-time motocross and supercross champion, and Wheaties®-featured athlete, Ryan Dungey. Each has his own story of quick, noticeable results that have made an incredible difference in the ability to train, compete and win.
"I was experiencing extreme tightness in my forearm, which created a great deal of pain in my elbow," shares Molleken. "I honestly thought that I probably needed [Tommy John] surgery, as I could not rotate my hand skyward and I could not even brush my hair without my elbow pain killing me. I was introduced to Lee Ramage through my pitching coach, Dom Johnson. Lee began using the 4Arm Strong device on my forearm and within two days I was throwing off the mound with NO PAIN. In my mind, this was a miracle."
Due to the product's positive reception in the marketplace, the manufacturers recently have been able to improve the 4Arm Strong's design and also decrease the retail price to $129—a 20 percent savings for the consumer. With applications across a wide variety of sports, a wealth of free instructional videos from qualified professionals available straight from 4arm-strong.com and a risk-free 30-day money-back guarantee, it's a multi-tool investment for today's wellness-conscious athlete.
About 4Arm Strong
Created by Lee Ramage, a former pro athlete and certified Active Release Techniques practitioner with many years of experience rehabilitating athletes in several different sports, 4Arm Strong is committed to speeding the recovery of injured or performance-compromised players and enhancing the preventative conditioning therapies employed by individuals and trainers in motocross, rock climbing, golf, tennis, mixed martial arts, baseball and more. Their direct-to-consumer product is a portable device invented to help athletes achieve more with reduced pain, head off common injuries and maximize their performance. Learn more at 4arm-strong.com.